Villefranche, Beaulieu, Saint-Jean : the golden triangle
The world's most sumptuous bay in Villefranche, the richest collection of "Belle Epoque" architecture in Beaulieu, the most highly-prized cape on earth in Saint-Jean… Here, sheer opulence reigns supreme. And real estate is no exception to the rule. Picture-postcard scenery, unspoilt views of the Med…
The triangle formed by Villefranche, Beaulieu-sur-Mer and Saint-Jean-Cap-Ferrat benefits from an idyllic location, 15 minutes from the Nice Côte d'Azur international airport to the west, Monaco to the east. Acclaimed by cruise passengers, Villefranche, with almost 6,900 residents, is like an amphitheatre encircling the Deep Blue Sea, from Mont-Leuze to its typical, colourful historic centre. Beaulieu, home to 3,760 residents in winter, 8,000 in summer, enchants fans of the "Belle Epoque" but also yachting enthusiasts, thanks to its harbour with 800 moorings. The 500 villas on Cap Ferrat, a peninsula of almost 700 acres, beckon beguilingly to an international clientele. A number of world records for property prices have been chalked up here.
"In Villefranche and Beaulieu, demand is steady and choice pretty limited," announces Benjamin Mondou of Lafage Century 21 Transactions. His most recent sales include an apartment of 200 m2 in a "Belle Epoque" villa on Boulevard Edouard VII in Beaulieu, offering a terrace and panoramic sea view. The lucky buyer, from the land of Uncle Sam, had been searching for a holiday home in the area for several months. A victim to its own success, the address wins all the votes. Clients appreciate its shops, cafés and restaurants, mostly revamped, and the year-round liveliness of this town on a human scale. Others prefer the site of Villefranche with its sublime, dizzy views of the sea. A Belgian buyer recently treated himself to a villa of 200 m2 to renovate here, within easy reach of the centre, prolonged by a garden of 600 m2 facing the Mediterranean, in exchange for 2.2 million euros. While originally hoping to find a turnkey property, he decided to inject a further one million euros into renovation work rather than postpone his plans to buy. The address's potential has not escaped the attention of developers, though unfortunately not all of them target the standards of quality expected by a discerning international clientele. This is the only fly in the ointment, which in no way affects the optimism of Benjamin Mondou, who is counting on continued price stability and low interest rates.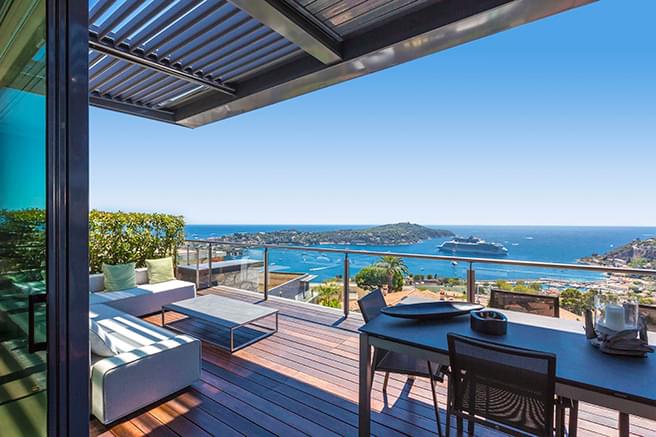 Extended by a garden of 700 m2, this modern villa of approx. 500 m2 on the hills of Villefranche offers quality appointments : nine main rooms, a glass-wall elevator, a cutting-edge home automation system, wine cellar and gym. 9,5 M €. John Taylor (04 93 76 02 38).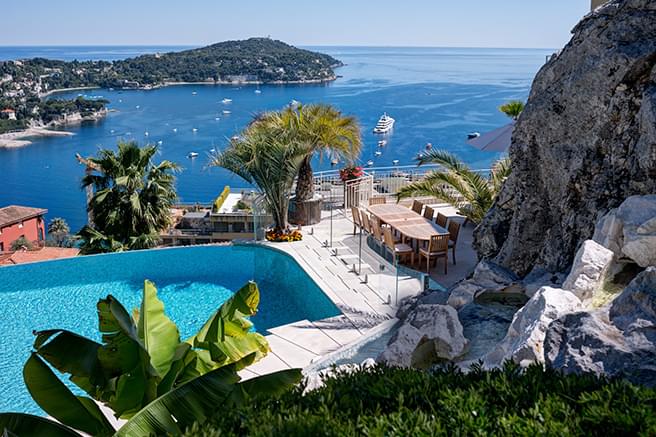 Comprised of two villas, this property of 690 m2 in grounds of 2,600 m2 is on a private estate. Its amenities include a bar, movie lounge, media room and well-being area. Between 10 and 20 M €. Magrey & Sons (04 92 98 98 22).
Just a few kilometres separate Villefranche and Beaulieu from Cap Ferrat, yet here the analysis is slightly different. "Due to the difficult quest for a balance between supply and demand, or rather between financial expectations on the part of owners, and the inclinations of potential buyers," explains Julien Fossat of the Agence du Littoral, an institution here since 1946. Buyers now focus on a coherent value-for-money relationship. They naturally compare the cape with Villefranche and Beaulieu, but do not automatically switch their attention to these neighbouring communes. The market is still most buoyant in the 8 to 12 million euro bracket. A budget corresponding, for instance, to a villa of 200 m2 in grounds of 1,200 m2, on the second row, on Boulevard du Général de Gaulle, Boulevard Durandy, Saint-Hospice, or even the neighbourhood near the beach of Les Fosses. Less evident as buyers, members of the Russian-speaking community are in no hurry either to part with their possessions on the cape, seen as safe-haven investments, a phenomenon which highlights their rarity. In the case of some luxury properties sold off-market, one can sense competition from seaside resorts such as Marbella or Ibiza, appealing to the taste of much younger generations. Even so, we have not yet heard the last of Cap Ferrat, which can turn towards Monaco as a source of entertainment.
For Ana Garcia of the Valmont Riviera agency, the core of demand ranges from 2 to 5 million euros. At those prices, no chance of a sea view on the cape. A desirable asset perfectly accessible, on the other hand, for the same budget in Villefranche, Beaulieu and Eze. Here, a villa with three or four suites and a garden of about 1,000 m2 with a pool, a short walk to shops, will cost 3-4 million euros. Over and beyond 20 million euros, there is also a market. The one on which one finds a house with six suites in grounds of 1,800-2,000 m2 on the front row on the cape. Generally speaking, the market is lively, fuelled by an international clientele. English, Belgian, Dutch, Scandinavian and American buyers are showing real interest in the Golden Triangle. The gradual withdrawal of the Russian clientele has made activity more evenly balanced : bargaining is rife and the value-for-money concept is gaining ground. There are two main motivations among buyers : some people invest, reassured by France's current climate of political and economic stability, and the Triangle's long-established popularity ; others dream of a second or semi-permanent residence suitable for family life, and compare offerings within a wide perimeter, from Eze to Mougins. The challenge lies in education. The estate-agent's role as advisor is increasingly pertinent, requiring ever wider knowledge and skills.