The impressive rise of De Meyer Immobilier - S.I.R.
Affiliated since 2016 to the prestigious Sotheby's International Realty network, the De Meyer agency created by Stephan de Meyer in 2003 focuses on prestige properties between Annecy, Aix-les-Bains and as far as the gateway to Geneva. Covering such an extensive area, this agency now linked to an worldwide network benefits from maximum visibility at international level which reinforces its existing reputation. Encounter…
Based in the "Golden Triangle" in Annecy, Meyer Immobilier last year joined the network of Sotheby's International Realty, the leader for high-end property transactions. A turning-point which underpins its position within the region. "Annecy is still our main target, its east and west banks as far as the end of the lake, together with residential areas on neighbouring communes," explains Stephan de Meyer. "However, our field of activity extends well beyond, as we also cover the area from Annecy to Aix-les-Bains, and the route followed by "frontaliers" from Annecy to the entrance to Geneva. This broad expanse of territory enables us to offer a wide array of properties including sublime residences in ''Belle Epoque'' style, houses right at the water's edge, and apartments of character in former palaces." Attracting a mainly French clientele with substantial means, the agency also draws the attention of foreign clients with high purchasing power (Swiss, Australian, American, from the Gulf States...), looking for exceptional properties whose prices can reach 4 million euros. With regard to Annecy, Stephan de Meyer explains : "The market is very active and has been marked over the past few months by a renewal of availabilities and price adjustments allowing buyers to make faster decisions. Prices are high in Annecy, ranging from 7,000 to10,000 € per sq.m for new high-end developments, and from 5,000 to 9,000 € per sq.m in older buildings".
De Meyer Immobilier Sotheby's International Realty, 5 rue Paul Guiton, Annecy (04 50 230 230) www.demeyer-sothebysrealty.com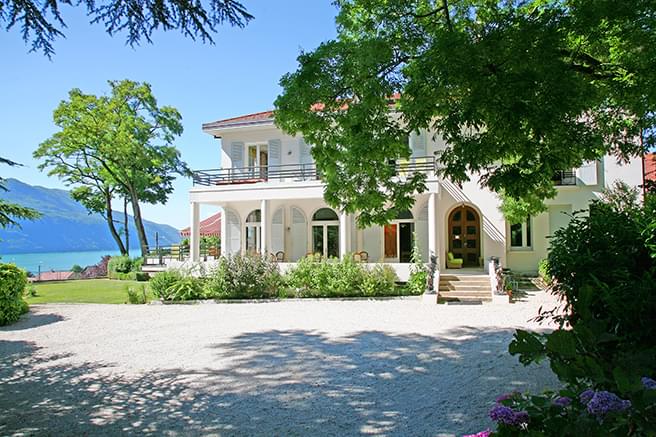 Nestling in an historic residential area overlooking the Lake of Le Bourget, this master residence in Art Deco style benefits from a magnificent environment. Renovated throughout, its living space of 300 m2 offers a double lounge opening out to a terrace and a patio, 2 kitchens, 7 bedrooms including 5 suites, and a wellness area. The splendid park of 8,500 m2 benefits from a pool with a pool-house and solarium. Garage. 1.900.000 €.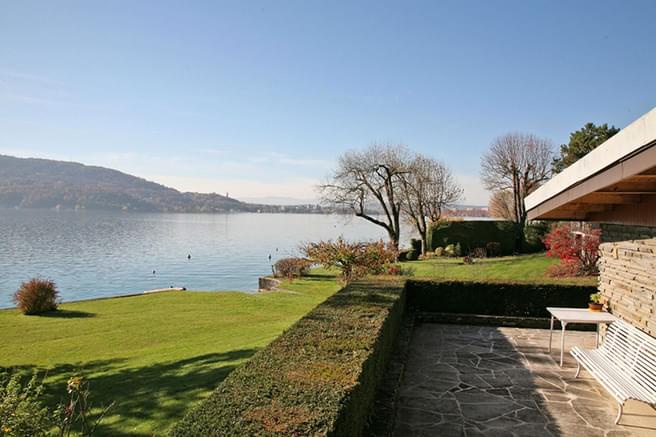 At the entrance to Annecy-le-Vieux, this property at the water's edge, surrounded by a flat landscaped garden of 2,000 m2, offers a remarkable panoramic view of the lake and benefits from a boat mooring. Laid out on half-levels, the living space of 210 m2 offers a lovely lounge opening out to the terrace, a separate kitchen with utility room, and 5 bedrooms. Garages. 3.160.000 €.