The charm of the Var coast
Sainte-Maxime, Saint-Raphaël and Les Issambres draw the interest of an international clientele fond of beaches, creeks and stretches of lush vegetation, typical of the second most densely wooded département in France.
A haven of tranquillity on the northern shore of the Gulf of Saint-Tropez, the commune of Sainte-Maxime opens out to the Mediterranean to the south. This tourist resort with oakwoods, pine-groves and maquis plays host to almost 14,300 year-round residents. The seat of the Var Estérel Méditerranée agglomeration, Saint-Raphaël lies at the eastern end of the Gulf of Fréjus, boasting 24 km of creeks, coves and lovely sandy beaches. Widely spread out, the town is made up of hamlets and neighbourhoods with marked differences : the town centre, Santa-Lucia, Valescure with its golf-courses on the hills, the seaside resort of Boulouris-sur-Mer, and Dramont with the Cap Estérel holiday village. In 2014, the old harbour was treated to a facelift, acquiring an underground car-park, a gastronomic restaurant and boutiques on Quai Nomy. Les Issambres is the seafront part of the commune of Roquebrune-sur-Argens, comprised of an 8-km coastline.
"Sainte-Maxime is lively year-round," says Anthony Rossi of Stil Immobilier. Buyers of holiday homes come from the Lille-Paris-Lyon corridor or northern Europe : Belgium, Switzerland, Holland and Luxembourg. Familiar with the destination, they often compare it with Grimaud and Les Issambres. They appreciate the neighbourhoods of Le Sémaphore, La Croisette and La Nartelle. After a successful year in 2017, 2018 also looks promising. Sales are usually completed in April, May, June, September and October, before and after the high season. In summer, clients are more volatile. Up to 1.5 M €, the budget required for a villa with 4 or 5 suites, without a sea view, in a prized neighbourhood, the market is active. From 1.5 to 3 M €, it is quieter. To compensate for the lack of building land, existing properties are often treated to extensive renovation. The town centre is currently seeing some new developments with prices peaking at 10,000 € per sq.m in residences offering views of the Med, pools and luxury appointments, while old apartments start from 3,000 per sq.m, posting an average price of 5,00 € per sq.m in town.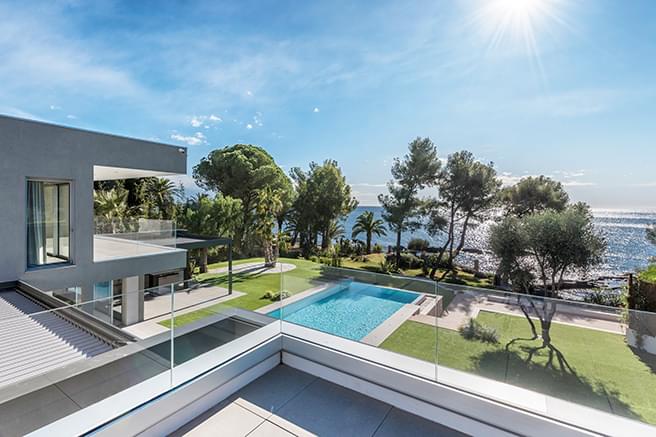 In the well-known area of the Red Rocks between Cannes and Saint-Raphaël, this new property right at the water's edge offers 8 main rooms, a movie lounge, gym, hammam and 5-car garage. Fitted and furnished, the main house comes with a 2-bedroomed guest cottage in grounds of 4,000 m2 benefiting from a pool, tennis court and private access to the Mediterranean. 10.950.000 €. Azur Astoria (06 12 24 00 59).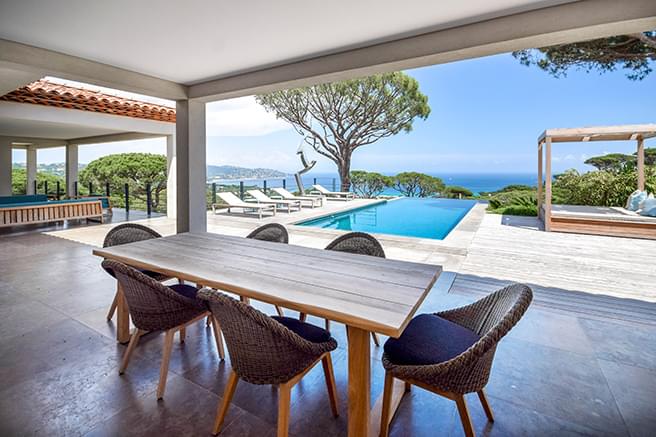 In one of Sainte-Maxime's most desirable neighbourhoods, this sumptuous recent property offers 4 suites and a panoramic view of the sea. Its through rooms open out directly to terraces. Inside, be prepared to find a spa with an indoor pool, hammam and gym. More than 4 M €. Rêve de Sud (04 94 96 95 85).
Over in Saint-Raphaël, the same observations hold true. "The town centre, Valescure and Agay-Anthéor have chalked up impressive results since the presidential elections in 2017," says Sylvie Ferrero of Azur Astoria. Among her most recent sales, she mentions a penthouse of 145 m2 in perfect condition, acquired as a holiday home for 10,000 € per sq.m by a Scandinavian client. A French buyer then acquired a contemporary house of 400 m2 with sea view for around 4 M €. Another French client set his sights on a residence of 350 m2 a short walk to the harbour, priced at around 3 M €. In Valescure, several houses of 180-200 m2 pegged from 1.2 to 2 M € are finding takers with a fondness for golf and open green spaces. The 600,000 to 1 million euro bracket is also proving to be rather brisk. Both French and European clients appreciate the amenities offered by an agglomeration hosting 85,000 residents, easy access to motorways, a TGV station, five harbours, three golf-courses, the proximity of the Estérel hills and the Nice Côte d'Azur international airport. Recently, a second 5-star hotel opened its doors in Saint-Raphaël, thus increasing capacity for stays guaranteeing charm and luxury. Homes right at the water's edge still have their fans. Benefiting from steps to an intimate creek, a "bastide" of 75 m2 with a garden of 300 m2 on a gated estate sold for 1.4 M €. Also on the front row, a neo-classic villa of 450 m2 with its guest cottage in grounds of 5,000 m2 changed hands at a price exceeding 10 M €. Another residence of 400 m2 at the water's edge in 3,200 m² of flat grounds found a taker at 8 M € in Saint-Aygulf. Sylvie Ferrero also points to high demand for apartments with panoramic sea views, at prices ranging from 6,500 to 10,000 € per sq.m depending on their condition. Surface areas over and beyond 120 m2 have their fans, but prove to be a rare comodity.
"Les Issambres plays on its assets of untamed nature and a well-preserved shoreline, with buildings on four floors at most. For equivalent properties, prices are 20 to 30 % lower than those applicable in Sainte-Maxime," explains Dominique de Mattei of Rêve de Sud. Easy access to motorways and magnificent views of La Nartelle and the Gulf of Saint-Tropez offer real appeal to the 95 % of holiday residents here, Belgian, Dutch, German, British and French, mostly ready to part with 600,000 to 1 M €. Some pay 1.3 to 2 M € for new villas with six suites in grounds of about 1,700 m2. Under the umbrella of the Conservatoire du Littoral and in association with protected green areas, this is a private, insider address.