Seasonal rentals on the French Riviera
Each year, 14 million travellers converge on the international Nice Côte d'Azur Airport, from 114 destinations and over 40 countries worldwide. Eleven million of them spend almost seven nights on average between Menton and Théoule-sur-Mer, not forgetting Monaco.
The Alpes-Maritimes comprise the second busiest congress destination after Paris, with 20 % of stays for professional purposes, and the remaining 80 % dedicated to holidays. 10 % of visitors prefer seasonal rentals to other types of accommodation.
"Cannes is aptly named the City of Festivals," comments Arnaud Jacquet, Executive Director of the John Taylor Group. "During the MIPIM, International Film Festival and Lions event, followed by the Tax Free World Exhib­ition, MIPTV and ILTM, particularly fashionable over the last two seasons, everyone wants to be less than 5 minutes from the Palais des Festivals." When the MIPIM is in full swing, a 4-bedroomed apartment of 250 m2 on the Croisette rents for 20,000 €. For the International Film Festival, an English client has already reserved a property of 152 m2 with four suites, extended by a terrace of 110 m2, for 74,200 €. Finally, it costs 30,000 € to occupy an apartment of 100 m2, also on the seafront in Cannes, for the duration of the Lions event. And while the rental market is indeed buoyant in the congress seasons, turnover for the summer season - ie. stays from mid-May to All Saints' Day (Nov. 1st) - wins the day, with a rise of 11 % versus the previous year. 80 % foreign, mainly from Eastern Europe and the United Arab Emirates, these clients are ready to spend from 40,000 to 350,000 € per month in summer, in Cannes or on Cap d'Antibes. In July and August, the rental market posts occupancy rates of 70 %. It will cost 85,000 € for a property of 470 m2 at the water's edge on Cap d'Antibes (5 bedrooms + 3 for house staff) in grounds of 1,650 m2. Or 100,000 € for a villa of 600 m2 in 7,800 m2 of grounds on the hills behind Cannes.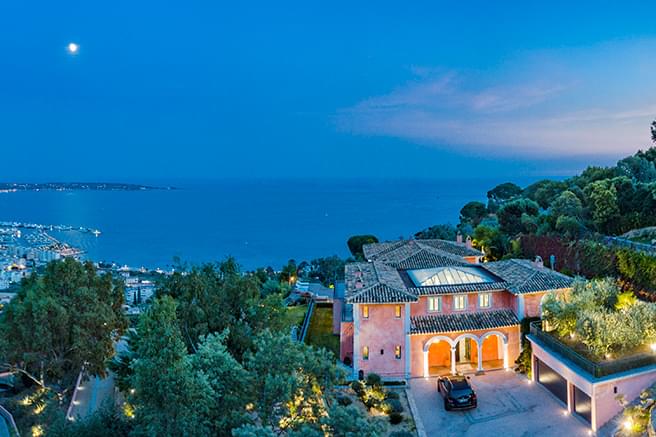 In Super-Cannes, this villa of Venetian inspiration offers living space of 900 m2 (nine bedrooms) in the midst of 9,000 m2 of grounds. From 30,000 € per week. John Taylor (04 97 06 65 80).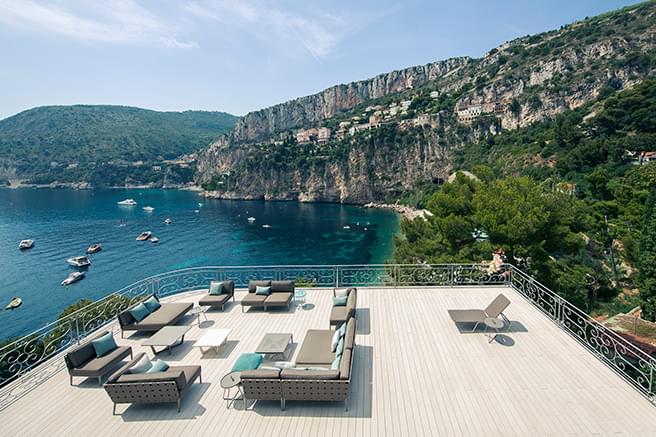 In the Mala Beach neighbourhood on the commune of Cap d'Ail at the entrance to Monaco, this house of 600 m2 (seven suites) boasts designer signatures such as Minotti, Baxter, Antonio Lippi and Lasvit. Caretakers' house, spa, landing-stage..., the programme for holidays on the Riviera is ready and waiting. Security service, two cleaners and a chauffeur included. From 75,000 € per week. Haussmann Real Estate (04 83 84 84 84).
Amélie Delange of Haussmann Real Estate specializes in the area from Roquebrune-Cap-Martin to Villefranche-sur-Mer. Russians are fond of Cap d'Ail and Cap Ferrat, often moving their families into sumptuous villas for the three months of summer. They see these enchanting stays as springboards to an acquisition. "Belle Epoque" villas of 500 m2 draw their attention, pegged from 150,000 to 400,000 € per month. Europeans are still loyal fans, and Americans are making a big comeback. They focus on 2-week stays in 5-star properties with services built-in, including high-end conciergerie : cleaners, chef, baby-sitter, coach, bodyguard, plus yacht hire or organization of special events. Owners have largely become used to this level of demand : faultless interior decor, cutting-edge equipment. Often from large cities or capitals, tenants expect ultra-contemporary appointments, top-quality home automation, luxurious house linen… and, of course, a wide choice of beauty products. They compare and bargain, prepared to pay from 65,000 to 95,000 € per week. The top end of the bracket corresponds to 500 m2 with six suites and a service apartment, facing the sea, if not right at the water's edge, with a hammam, sauna, gym and movie lounge. They often complete their stays on the Côte d'Azur by a quick trip to Greece, Italy or Spain. For excursions and entertainment, they are always ready to head for the very select Principality of Monaco.
"Seasonal rentals require in-depth knowledge of the property portfolio. We visit all the houses on offer. It is essential for giving advice prior to the clients' arrival, and logistics during their stay," say Alexandra Venard and Marie Gérard of Carlton International, an agency operating on the Côte d'Azur, in Corsica, Ibiza, Saint Barths, Greece and select resorts in the northern Alps : Courchevel, Méribel, Chamonix and Megève. Customer behaviour has changed radically : reservations are left until late, stays are shorter and often coupled with another destination, whence the different addresses offered by professionals. In fact, when one of the sectors proves lively, the others follow on. Flexibility is essential. And owners have to be educated. Specialists do not suffer from competition from hotels or large booking platforms. "Hotels envy the intimacy offered by our villas, booking sites envy the guarantees we offer to both tenants and owners." The winter sports season often gives a clue about summer occupancy. Courchevel tops the list with a clientele curiously from South America. Méribel draws wealthy families fond of discretion and privacy. Megève, a long-established address, attracts Swiss and Parisian clients, while fans of technical skiing head for Chamonix. The rarity of sublime luxury chalets available for rent – pegged from 20,000 to 250,000 € per week – is the common denominator for the four winter sports resorts. "With budgets of 25,000 € per week or more, some clients have already taken up their positions for this summer, for villas on the capes or in Cannes, benefiting from lovely views of the sea and luxurious appointments. The advantage enjoyed by the Côte d'Azur really derives from its wide choice of scenery and atmospheres, from highly-prized addresses down on the coast to more countrified settings in Mougins and Valbonne."