Seasonal rentals on the Côte d'Azur
Between luxury hotels and digital platforms, the market for prestige seasonal rentals keeps its head above water thanks to ever more personalized services based on familiarity with micro-markets and their special features. From capes blessed by the gods to very desirable addresses, from Cannes to Saint-Tropez, our professionals describe a highly specific kind of activity.
"From Saint-Tropez to Cap Ferrat via Cannes and Saint-Paul, we are seeing a much higher volume of reservations in the high-end sector than in 2016 and 2017. Ninety per cent of them involve top-notch addresses," says Alexandra Venard of the Carlton International agency. Over the summer period, average rates range from 20,000 to 50,000 € per week on the coast, from 10,000 to 25,000 € per week in the back-country. For about 200,000 € per month, very wealthy holidaymakers can set their sights on living space of around 400 m2 facing the Mediterranean, with 4 to 5 bed­rooms and as many bathrooms, on Cap Ferrat. Here, a villa of 800-1,500 m2 with eight suites on average, ultra-contemporary decor and an enchanting view of the sea will cost around 400,000 € per month. The same kind of property on Cap d'Antibes, a corner of paradise midway between Nice and Cannes, will range from 250,000 to 300,000 €.
Saint-Tropez posted lacklustre results in 2016 and 2017. The current period is, however, giving rise to optimism. American and Scandinavian clients are showing lots of interest. Russians are making a hesitant comeback, while Middle Easterners are following the opposite trend, except in Cannes where they have always felt at home. They are all looking for the standards posted by major cities in terms of interior decor, equipment and home automation, at least 4 or 5 suites, panoramic views of the azure-blue sea, and the services of a luxury hotel combined with the intimacy of a private residence : chef, butler, cleaning lady, security agent, steward… Over the past few years, prices for seasonal rentals have remained stable, although owners now have to include these services to guarantee the highest level of occupancy. The number of properties available is on the rise. On this increasingly competitive market, tenants are demanding, compare prices and bargain. Properties at the water's edge or a short walk to the beach are always in high demand. Average stays range from one week to one month. Flexibility is the golden rule. Today, holidays have become "composite" : the Côte d'Azur, Ibiza, Greece, Corsica… Some agencies, including Carlton International, are adapting and diversifying their networks in order to offer different destinations. While seasonal rentals steal market shares from luxury hotels, they do not lose any to international rental platforms, which are less focused on expertise and firsthand knowledge of their properties, and are thus less suited to a wealthy, cosmopolitan and highly demanding clientele. A few tenants formulate requests for long-term rentals based on the school year : ten months to discover the region and get a taste of the Riviera lifestyle. In these cases, rental potential ranges from 5,000 to 50,000 € per month.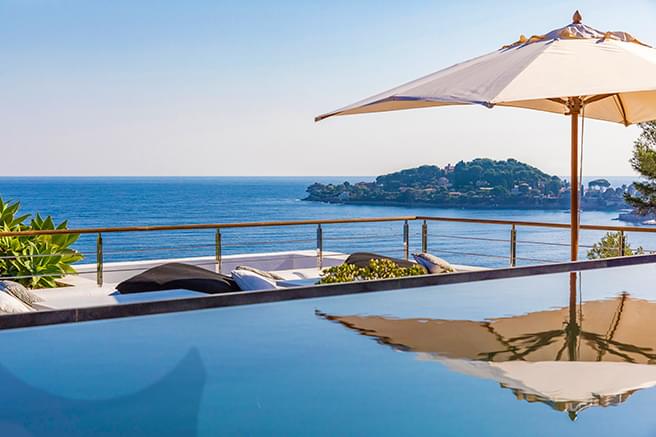 Just a 5-minute walk to the village and harbour of Saint-Jean-Cap-Ferrat, this outstanding property is comprised of four suites, a staff bedroom, and two further bedrooms in the guest cottage. A special mention for the ecological pool with its Balinese area. The roof offers a second heated pool. 95,000 € per week in summer. Carlton International (04 93 95 11 11).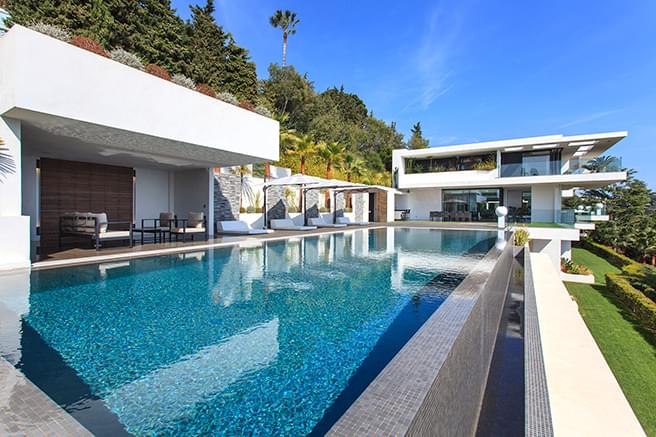 This contemporary villa in the neighbourhood of La Californie in Cannes offers living space of 1,100 m2 including a reception room of 250 m2, in a landscaped park of 3,500 m2 facing the Lérins Islands. The well-being area offers outdoor and indoor pools, a hammam, sauna and massage room. Approx. 380,000 € per month in summer. Agence Impact Cannes (04 93 68 91 16).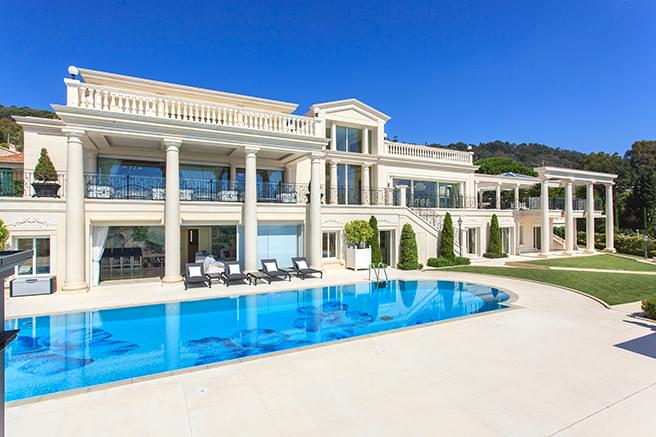 On the hills of Cannes, this superb domain comprised of two villas offers total living space of 1,250 m2 : ten suites, vast reception rooms and terraces fully equipped for entertaining, two pools in grounds of 6,500 m2 overlooking the Deep Blue Sea. Approx. 260,000 € per month in summer. Agence Impact Cannes (04 93 68 91 16).
"Cannes is a special case, given the many congresses and festivals held here, in addition to the summer rental period," comments Judith Davis of the Impact agency. With 2017 proving to be relatively stable, the clientele attending this type of event seems to focus on MIPCOM to the detriment of MIPTV. Attendance at the Tax Free World Exhibition rises each year.The Lions event always tops the list, followed by the MIPIM held in March, which posts a maximum occupancy rate for apartments and exceeds the International Film Festival in terms of attendance. It is hard to make forecasts for the Film Festival : the first wave of reservations is completed by March 30th, though the second, often decisive, lasts until the opening ceremony. Everyone criticizes the soaring prices observed over the past five years for the Lions week. A 3-bedroomed apartment in the centre of the Croisette costs 8,000-10,000 € for that period. The same apartment will range from 6,000 to 8,000 € per week during the MIPIM. A villa on the hills facing the Bay of Cannes will fetch 25,000-30,000 € for the Lions week, a price which includes the right to hold receptions. The same villa will cost from 15,000 to 20,000 € per week during the MIPIM, 30,000 to 35,000 € for the Film Festival fortnight. Penthouses facing the Palais des Festivals then take off spectacularly. Some companies target residences that can be rented in their entirety, offering about 15 rooms and generous reception facilities. "Since 2018, the Agence Impact has been commercialising high-end residences in all exclusivity, a 5-minute walk to the Palais des Congrès," says Emmanuelle Le Quellec-Furrer. Forecasts for this summer in Cannes are encouraging, which is also true of Cap d'Antibes. One can expect to pay 100,000 € to treat oneself to a month on the seafront on Cap d'Antibes, which has two distinct markets. Front-row villas, whose vast surface areas and parks always meet with great success, despite the departure of Russian clients. Addresses within walking distance of the beaches win everyone's vote. The market for family homes - renovated Provençal villas sleeping up to eight guests but set further back - then offers more affordable prices, of around 35,000 to 45,000 € per month. Thanks to the Internet, potential tenants are better infomed, faster in their decision-making, but also more demanding. Seasonal rentals follow the trend taken by luxury hotels, except that the latter can accept two or three nights, whereas a fortnight often seems to be the minimum required by owners on the rental market. Emmanuelle le Quellec-Furrer points out that in Cannes, "the dynamism of congresses and festivals has boosted sales, especially of apartments in the centre (known as the "Banane") priced from 200,000 to 800,000 €". Buyers benefit from them a few weeks a year, then place them at the disposal of the rental market, bringing net profitability of 4-6 %.