Saint-Paul-de-Vence and La Colle-sur-Loup
In the centre of the Alpes-Maritimes, 15 minutes from the Nice Côte d'Azur international airport and just a few kilometres from large towns on the Riviera and the Mediterranean shore, the bucolic villages of Saint-Paul and La Colle have many devoted fans…
Built between the 10th and 12th centuries, the medieval site of Saint-Paul is a rocky spur, now home to almost 3,500 year-round residents. The village is popular among tourists for its ramparts built in the reign of François I, its narrow cobbled streets and art-galleries, but also its iconic and the equally famous Maeght Foundation. The neighbouring commune, La Colle-sur-Loup, offers its 7,900 residents luxuriant nature. Nice and Grasse are 18 km away, Antibes and Cannes 25 km. All those living here appreciate the village as a pleasant place for family life.
"We are definitely seeing an upturn : compared with last year, both the volume and number of transactions orchestrated by the agency have doubled," says Michael Deckers of Capital Immobilier. "While the British, faced by a drop in sterling and the now tangible prospect of Brexit, and Americans, still held back by concerns about security, are rare, north Europeans and the French, Parisians or ex-pats, are very enthusiastic." They all appreciate this central location in the Alpes-Maritimes, the closeness of motorways and the airport, as well as pools of employment provided by Sophia-Antipolis, Nice and Monaco. Whether locally employed or foreigners in search of a pied-à-terre, some invest from 150,000 to 300,000 €, from studios of 25 m2 to village houses of 70 m2. Others, mainly French this year, pay from 1.5 million euros - the sum required for a house with four suites in grounds of 1,500 m2 with a pool in the more densely populated area at the bottom of the hill of Saint-Paul - to 2.5 million euros - bringing a 6-bedroomed property, possibly in need of a revamp, in 2,500 m2 of grounds. In the 800,000 to 1.2 M € bracket, fewer properties are available.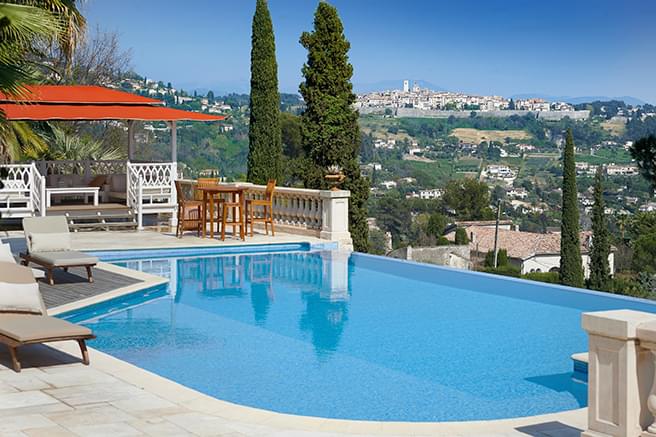 This luxury "bastide" of 750 m2 (11 bedrooms, 9 bathrooms shared out between the main residence and the guest cottage which has its own pool) stands in 5,000 m2 of grounds a few minutes from the medieval village of La Colle-sur-Loup. 9,9 M €. Côte d'Azur Sotheby's International Realty (04 92 92 12 88).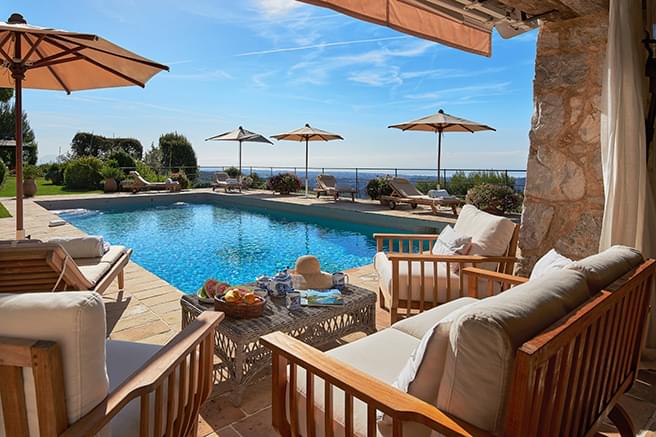 Revamped by Robert Dallas, this house in Les Hauts de Saint-Paul offers living space of 650 m2 (9 suites), a view of the sea, and two pools in a landscaped park of 7,155 m2. 7,5 M €. Savills (04 93 87 41 15).
Peter Illovsky of Côte d'Azur Sotheby's International Realty also reports improved activity on the market from 1.5 to 3 million euros, with a noticeable cut-off point at 5 million, when the market here begins to compete with the capes and the town of Cannes. "Le Jardin des Arts" is a new development consisting of three 2-storey buildings near the ramparts, not far from the main square in Saint-Paul. At around 12,000 € per sq.m, its apartments offer surface areas of over 100 m2, featuring prestige kitchens opening out to generous terraces facing the Mediterranean shore. Some clients acquire two units to join together. This international clientele is very fond of this chic but countrified address, the hinterland promising quietness and privacy, its private estates and views of the sea, not far from the trendy shopping mall of Polygone Riviera. Peter Illovsky's only regret is the lack of on-site luxury hotels, which always convey a special aura. "The "typical" client for Saint-Paul-de-Vence, La Colle-sur-Loup, but also Vence and Tourrettes-sur-Loup, is a north European or a resident of Monaco. He is looking for authenticity, landscaped gardens, houses facing south or south-west, views of the sea, and constructions certainly Provençal, but opening widely outside."
According to Alex Balkin, General Manager of Savills, architect Robert Dallas foresaw, back in 1980, this need for interconnecting living rooms, designed to open out directly to sheltered terraces, the pool area and pool-house. "Buyers give priority to proximity to the airport and motorways, and usually require four or five bedrooms with their own bathrooms, generous indoor and outdoor space to ensure a serene lifestyle. They are sensitive to the quality of building materials and finishing touches, have neither the time nor the inclination to undertake renovation, and keep an eye on value for money. Aged from 40 to 55, they want their homes to fit into the landscape, and are very fond of good restaurants." Among his most recent sales, Alex Balkin mentions a property of 500 m2 on the very select gated estate of Les Hauts de Saint-Paul, facing the Mediterranean, in 4,000 m2 of grounds, which sold for around 4.5 million euros. In Tourrettes-sur-Loup, properties rarely exceed 2 million euros, while they start at that level in Saint-Paul-de-Vence for living space of 250 m2 in lovely grounds of 2,000 m2 with a sea view. Opting for these villages is, in fact, choosing a rather special lifestyle.