Mougins, the "garden city"
Tourism, art, gastronomy… This commune lying between Cannes, Grasse and the employment pool of Sophia-Antipolis has more than one string to its bow…
Just 6 km from the sandy beaches along the Croisette, Mougins is home to 19,000 residents and hosts 18 % of the technopolis of Sophia-Antipolis on its territory, half of which is wooded. The forest park of La Valmasque covers an area of some 1,055 acres 30 minutes from the Nice Côte d'Azur international airport and 15 minutes from the train station in Cannes. The medieval village offers well-known restaurants, about 20 art-galleries and artists' studios. Over 60 % of the commune's living accommodation consists of houses, mostly inspired by Provençal and neo-Provençal architecture. It benefits from clinics, crèches, primary and intermediate schools including the international Mougins School.
Jean-Christophe Bourgeois of Lux Estate mentions recent sales under 1 million euros involving houses of 150-200 m2 in need of modernization, in grounds of 2,000 m2. Sales concluded after hard bargaining, with buyers prepared to invest 150,000-200,000 € in refurbishment. The choice of properties to renovate is interesting in Mougins, including those at the upper end of the market which is, in fact, diverse. It ranges from unpretentious homes to quiet, private, gated estates with large residences, generous parks and breathtaking views, within easy reach of the village or the three golf-courses on the commune. Clients with significant budgets are foreign, East Europeans or Anglo-Saxons in search of French-style charm. They often spend six months here, six months back home. Americans are apparently making a timid comeback. Generally speaking, buyers are knowledgeable about the market, consider their investments with a real notion of value for money, and are serious about their desire to acquire a property despite tax considerations and the recent loss of image affecting all of France. Building land is rare, though a few appealing plans for estates and large developers' villas should see the light of day. Construction of the new heart of Mougins will necessitate development work, but also bring a more practical approach with offerings of apartments, a segment hitherto characterized by scarcity.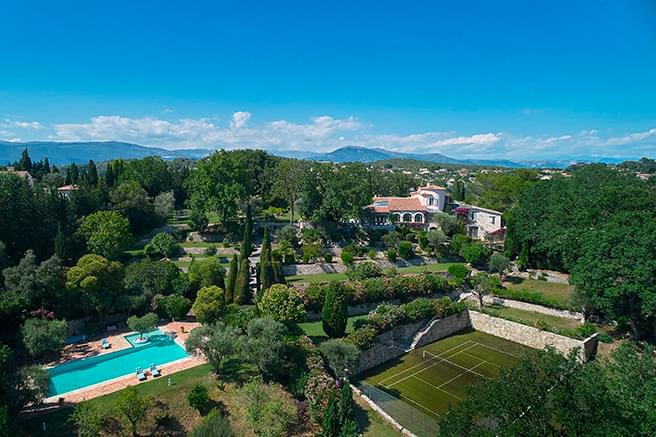 This majestic Provençal residence of 1,000 m2 stands in a 5-acre park with a pool, pool-house, tennis court and caretakers' apartment. It enjoys a sweeping view down to the sea. 14,5 M €. Côte d'Azur Sotheby's International Realty (04 93 38 50 33).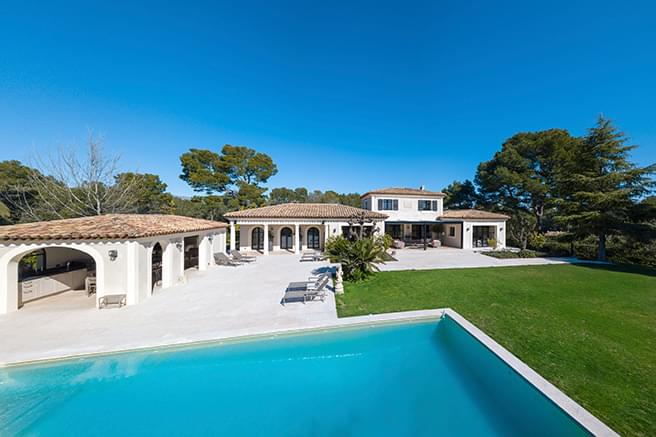 On a gated estate in a quiet residential neighbourhood in Mougins, this villa of 414 m2 is comprised of 5 bedroms, 6 bathrooms and refined appointments, in grounds of 2,800 m2. 5.950.000 €. John Taylor (04 93 12 36 36).
Managing three agencies in Mougins, Valbonne and Plascassier, Régis Ducatillon of Prestigia Properties notes a certain uniformity in these three areas, with Mougins a step or two ahead, doubtless due to its closeness to Cannes. The 700,000 to 900,000 € price bracket is targetted by French buyers, usually employed in Sophia-Antipolis or well-off retirees. This sector is extremely lively, probably thanks to a decline in prices and interest rates at record lows. Some company directors and foreigners with budgets from 900,000 to 1.3 million euros set their sights on quiet, residential neighbourhoods. Above 1.7 million euros, transactions are rarer and tend to consist of holiday residences. Régis Ducatillon mentions the sale of an outstanding property of de 320 m2 in perfect condition, in vast grounds, priced at 3 million euros, the highest budget he handled in 2018. Today, the Côte d'Azur is faced by competition from other destinations, Croatia or Spain, including the highly-prized Ibiza, though activity here is still very buoyant, and turnover high.
"In Mougins, the market is shared out evenly between French and other European clients," say Nadia-Kate Guyot and Georges Fassone of John Taylor. French buyers looking for main homes are prepared to pay from 1 to 2 million euros. Foreigners invest from 2 to 5 million, determined to treat themselves to panoramic views, total peace and quiet. Over and above 2.5 million euros, sales are decidedly rarer. Our specialists mention a sale somewhere between 9 and 10 million euros in 2018, undoubtedly one of the best of the year. In 5,500 m2 of grounds facing the surrounding hills, this stone property of 600 m2, renovated by a renowned architect in chic Provençal style, was acquired by a European buyer as a second residence. For investments at this kind of price, buyers usually open up their search to cover the entire region. Decision-making is now a slower process : they all visit, compare and negotiate 10 to 15 % to obtain the property's real market value. Mougins is seen as the countrified counterpart of Cannes. It is often a client's first request, ahead of Valbonne, Opio or Châteauneuf-de-Grasse. Everyone appreciates its good restaurants, authentic village, golf-courses, and easy access to the Nice Côte d'Azur international airport.