Mougins, an up-market garden-town
Art-galleries, inviting restaurants, narrow cobbled streets… This "chic, countrifed outpost" of Cannes, within easy reach of the "Pays de Grasse" and technopolis of Sophia-Antipolis, offers many persuasive arguments.
This commune with 19,000 residents is 6 km from Cannes, a natural, wooded area on the road to Grasse, 30 minutes from the Nice Côte d'Azur international airport and 15 minutes from the SNCF train station in Cannes. The science and technology park of Sophia-Antipolis occupies 18 % of its territory, and the forest park of La Valmasque covers almost 1,055 acres of its land. Built in the Middle Ages, the hill-top village attracts an international clientele.
"Properties here are spacious, especially their grounds. An address much appreciated by buyers, together with Mougins School, and the proximity of the CIV, the international secondary school in Valbonne," says Aurélie Provost of Luxury & Family, going on to describe the privileged lifestyle, ideal for families, with wooded areas, golf-courses and a tennis academy. The actively employed are looking for main residences priced from 1 to 1.5 million euros, usually a Provençal villa of around 220 m2 in good condition, in grounds of 2,000-2,500 m2 with a swimming pool. In the 2.5 to 3 million euro bracket, the majority of buyers are in search of holiday homes, villas of 300-400 m2 in grounds of about 3,000 m2 in the residential neighbourhoods of Pablo Picasso, Saint-Bathélemy and Pibonson, the latter boasting the huge advantage of views of the sea. From 4 million euros, the clientele is international, though the French are again taking up position at the top end of the market, especially for contemporary villas, much in vogue. Luxury & Family in fact recently handled the sale of a Californian-style villa of 520 m2 priced at 3.8 M €, in grounds of 3,500-4,000 m2 offering a panoramic view of the village, to clients in their forties from the USA.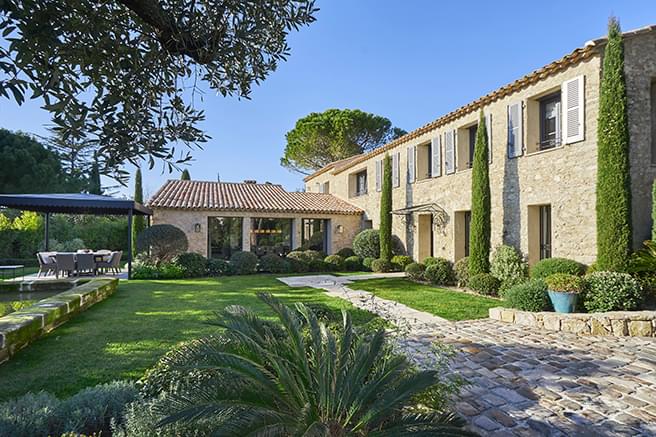 This 5-bedroomed villa of 350 m2 with a Provençal accent stands in grounds of 2,071 m2 on a gated estate. 4,3 M €. Magrey & Sons (04 92 98 98 22).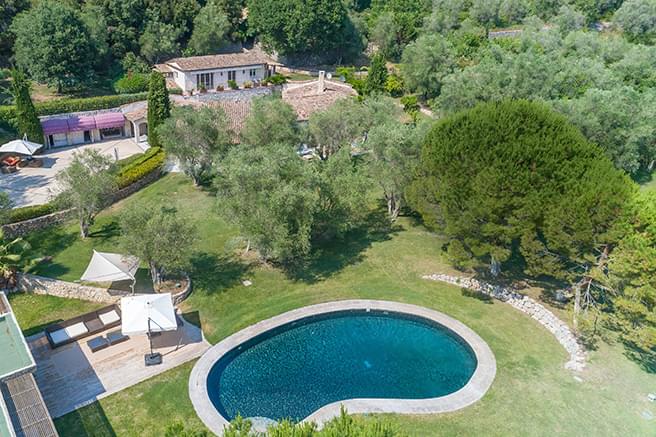 Renovated throughout, this single-storey "mas" offers living space of 460 m2 in almost 2.5 acres of grounds with a pool and pool-house. Between 5 and 10 M €. Michaël Zingraf Christie's International Real Estate (04 92 92 87 87).
"Mougins' property market is particularly active," says Alexandre Goldstein of Magrey & Sons, an agency soon to be found on the square of the old village. He refers to a property portfolio ranging from 2 to 10 M €, exceptions aside, explaining however that demand mostly falls between 2 and 5 M €, from French, Scandinavian and North European buyers. They all appreciate the address, the flat grounds, gated and guarded estates such as "Les Parcs de Mougins" or "La Chapelle", and easy access to both Cannes, the back-country around Grasse, golf-courses, good restaurants and art-galleries in the medieval village. Among his latest transactions, Alexandre Goldstein mentions a house of 360 m2 in good condition, signed Jacques Couëlle, in 2,500 m2 of grounds in Castellaras-le-Neuf, to the taste of a Scandinavian couple ready to part with 4 million euros for this, their second residence. A sum comparable to that invested by French buyers in a property of 350 m2 in grounds of 3,000 m2 facing the village, with the Mediterranean as a backcloth.
"Cœur de Mougins" should soon provide a real town centre, with its cinema, neighbourhood shops and landscaped areas dedicated to relaxation. "The municipality is keen to pursue the concept of a garden-town," comments Anne-Catherine Leman of Michaël Zingraf Christie's International Real Estate. "A desire to preserve open green spaces that is reflected in the policy for granting building permits. Everyone appreciates the Etang de Fontmerle, the canal of La Siagne, the closeness of the forest of La Valmasque, and the idea of being able to benefit from the pleasures offered by Mougins without necessarily having recourse to a car. As when dining in one of the restaurants in this authentic village. Recently, a couple with children attending one of the international schools treated themselves to a house of 260 m2, in need of a revamp, within walking distance of the historic centre, in grounds of 3,000 m2, priced at 2.5 M €, another asset offered by Mougins." A charming pied à terre of slightly over 106 m2, in perfect condition, with a garden of 500 m2, also just a short walk to the village, and on offer at 1 million euros, is drawing considerable interest. In the same locality, a substantial stone property of 700 m2 in landscaped grounds of 7,000 m2 with a pool is worth around 9 M €. Residents of Monaco are drawn by Mougins, looking for a place to stay in the country on weekends and holidays. Among the agency's most recent sales, a house of 350 m2 in excellent condition in over 3,000 m2 of grounds found a taker at 3,750,000 €. The "ready-to-move-in" aspect wins all the votes among buyers of holiday homes, hardly inclined to launch themselves into the great adventure of refurbishment, especially from a distance. As for the top end of the market, we have not heard the last of it. As evidenced by a brand new contemporary property of 1,000 m2 in 3.21 acres of grounds, presented on a "sole agency" basis at over 20 million euros : a property that clearly has nothing to envy of sumptuous residences in Cannes.