Mandelieu-La Napoule and Théoule-sur-Mer
35 minutes from Nice Côte d'Azur international airport and very close to Cannes, these addresses with very special atmospheres beckon to a clientele comprised of the locally employed and international buyers in search of second residences, appreciative of well-preserved coastlines.
About 22,000 people live in Mandelieu-La Napoule, a commune between Cannes and the towns of Fréjus and Saint-Raphaël in Le Var. The Estérel and Tanneron mountains rise up to the west. The river Siagne, whose lower part allows for navigation, flows into the gulf of La Napoule. The harbour of La Rague has 520 moorings, while that of Mandelieu offers 977, not far from a marina with 1,720 places. Almost 40 % of the living accommodation here consists of holiday homes, and over 80 % is comprised of apartments. West of the Bay of Cannes, Théoule-sur-Mer is anchored to the foothills of the Estérel. This commune with 1,500 residents offers a wild shoreline and beaches, protected from mass summer tourism. The Parc Départemental of La Pointe de l'Aiguille unfurls picture-postcard scenery.
"The market in Mandelieu-La Napoule is lively, like that of Théoule. As soon as we present properties of quality, they soon find takers," say Michel Nowak and Franck Laval of LG Prestige Immobilier. Most of the sales handled by this agency cost from 1 to 4 million euros for houses, from 500,000 € for apartments, with an average price of 1.5 million euros for a villa. The upper end of the price bracket is applicable to La Napoule and Théoule, which boast a good array of prestige properties. For 4 million euros, one can expect a privileged location, living space from 250 to 350 m2, panoramic views of the azure sea, and top-notch amenities such as last-generation home automation, an indoor pool or a spa. The area also hosts a few residences right at the water's edge, crowned by penthouses at 17,000 € per sq.m. British clients recently treated themselves to a villa of 280 m2 in excellent condition, in grounds of 1,800 m2, for 2.4 million euros. French buyers then spent 985,000 on a penthouse of 145 m2 in need of modernization, on the Barbossi golf-course. Demand is steady, supply limited, and prices rarely negotiated.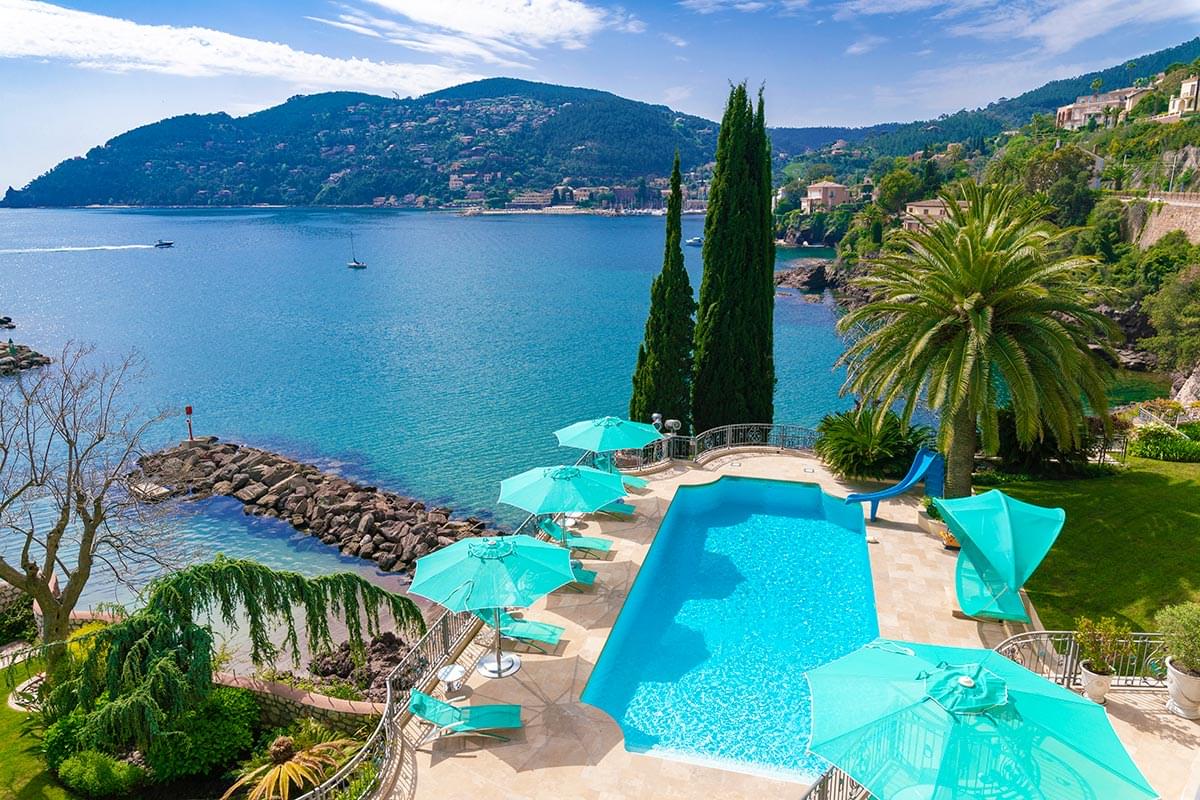 This property at the water's edge in Théoule offers living space of approx. 600 m2 (six bedrooms and a self-contained apartment) in grounds of 2,428 m2 with a pool and direct access to the sea. Between 10 and 15 M €. Magrey & Sons - Saint-Tropez (04 94 49 13 86).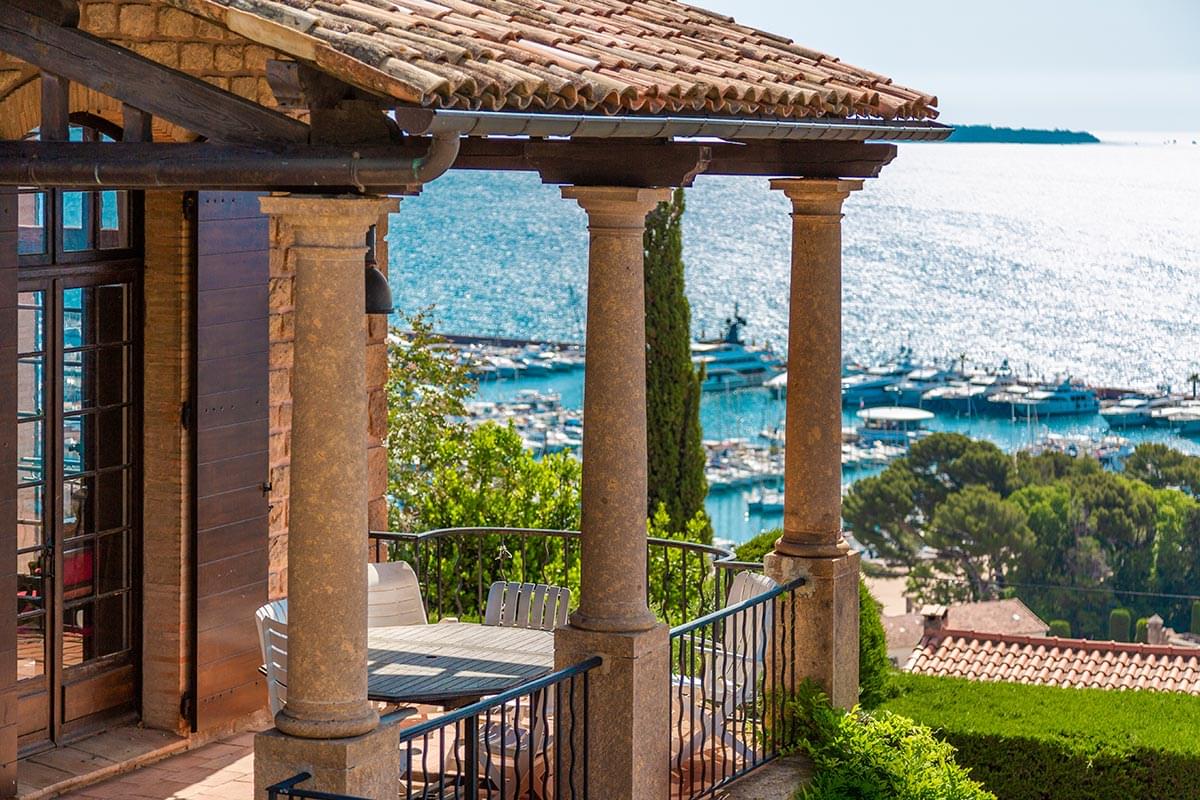 In a privileged environment in Mandelieu-La Napoule, this authentic stone residence with a total surface area of 227 m2 is in need of renovation. 2.958.000 €. LG Prestige Immobilier (04 93 47 06 67).
Martina Aniansson of Educata International operates from La Napoule : 75 % of her clients are foreign, from northern and western Europe, Germans, Scandinavians, English or Swiss. They all want to be close to the Mediterranean, and within walking distance of the town. They appreciate La Napoule, its casual seaside atmosphere, year-round liveliness and the green environment of the Estérel hills. Villas here usually range from 150 to 250 m2 with gardens of 1,000-1,200 m2. The starting price is 1.5 million euros, 2 million for a property in good condition. Seafront apartments cost from 10,000 to 11,000 € per sq.m, while residences on the hills range from 4,000 to 8,000 € per sq.m. Turnkey properties win all the votes. For shopping and nightlife, residents head for Cannes. Fans of unimpeded views of the Deep Blue Sea opt for Théoule. A sign of the market's buoyancy : the time it takes to sell is getting shorter.
"With very good public transport and a wider array of shops and amenities, Mandelieu attracts both year-round and holiday residents. It topped the list in the Figaro's national ranking for the best living conditions," comments Nicolas Berti of Berti & Sons. The well-preserved village of Théoule, next door to Mandelieu, appeals just as much to holidaymakers looking for nature, the sea and tranquillity. Luxury properties enjoying panoramic views of the Med start here from 3 million euros. A magnificent house of around 2 million euros in Mandelieu can cost 30 % more in Théoule, depending on its precise location. The village of La Napoule is also very popular. In both towns, the market for apartments is just as active as that for villas. An enviable apartment of 150 m2 overlooking the sea, extended by a terrace of 100 m2, fetches over 1 million euros, just like a villa with the same living space and characteristics. "The market for new contemporary houses in Californian style is constantly growing, underpinned by an affluent clientele. On this niche market, prices can soar due to rare availabilities." Real estate is still a good investment, with interest rates at record lows. Rentals are also in demand in these locations, and rental investments maintain a steady pace. One can expect a net yield of 5 % for small and medium-sized properties.