Eternal Croisette
Lined with palms and pine trees, dotted with palatial hotels, casinos and luxury boutiques, the Croisette in Cannes lies between the town centre and the sandy beaches. More than a century-and-a-half after it was built, it is still one of the most famous seaside promenades in the world…
The history of the Croisette is closely tied to that of the resort itself. Back in 1834, London's high society followed in the steps of Lord Brougham. The former Lord Chancellor then used his influence to provide a railway service. The Croisette came into being in 1866, initially called "Boulevard de l'Impératrice". From the tip of Palm Beach to Le Suquet, this famous boulevard 3 km long unfurls picture-postcard scenery. Once a year, this coast road, listed in the general inventory of the town's cultural heritage, receives the most media coverage in the world during the International Film Festival.
"Tastefully renovated properties, fully equipped and presented at the right price, find takers very quickly," says Christie Larnicol of Magrey & Sons . "While real estate on the Croisette is beginning to age, substantial restoration programmes are being undertaken. In fact, depending on their precise location, floor, or the appointments offered by the building, apartments can post considerable variations in prices. The central part of the Croisette, between the Palais des Festivals and the Martinez, fetches on average 25,000 to 30,000 € per sq.m, while the stretch ending in Palm Beach costs 15,000 to 20,000 € per sq.m. Australian buyers recently treated themselves to an apartment of 103 m2 as a holiday home in "Le Lérina". Comprised of three suites and a generous terrace, this turnkey property with contemporary decor, high-spec furnishings and appointments, sold for 3.5 million euros, even though it had only been up for sale for three months. Another example of the vitality of the market on the Croisette, a penthouse in the residence "Les Dunes" with its park, between the Martinez and Palm Beach, acquired by Swiss clients for 2.3 million euros. This splendid apartment of 80 m2, refurbished as new and optimized in terms of space, offers a roof-terrace of the same surface area with a stunning panoramic view, a summer kitchen and adjoining room.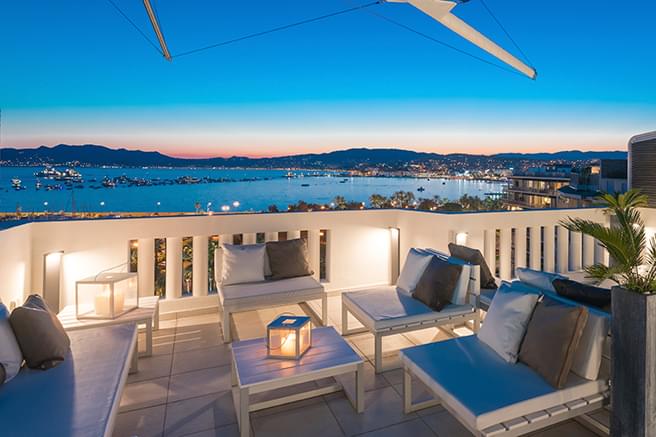 This 3-bedroomed penthouse of 80 m2 is decorated and equipped with furnishings and objects designed by Kelly Hopper, Boffi, Ralph Lauren and Bang & Olufsen. The roof-terrace of 70 m2 plays host to a kitchen, WC, outdoor shower and a room of 13 m2. 2.490.000 €. Magrey & Sons (04 92 98 98 22).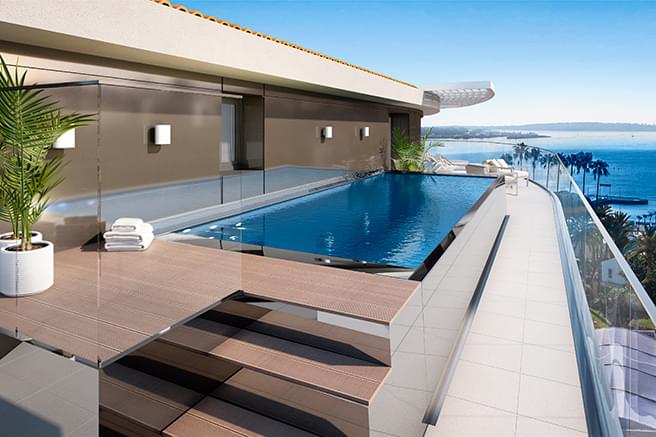 Facing the steps of the Palais des Festivals, "Le First Croisette" is comprised of 21 high-end apartments from 94 to 283 m2 opening out to terraces of 14 to 118 m2. This new luxury residence offers a spa, gym, parking facilities in the basement, and conciergerie service. From 3.5 M€ to 26 M€. Michaël Zingraf Christie's International Real Estate Cannes (04 93 39 77 77).
"The clientele is mainly north European, Scandinavian or French," says Bruno François of Marly Privilège. "Some prefer the lively, fashionable part of the Croisette with its boutiques and restaurants ; others opt for the quieter and leafier stretch towards Palm Beach. The first may be looking for a long-term investment or, just as frequently, a rental investment." A spacious, renovated 2-bedroom apartment with a sea view ranges from 1.8 to 2 million euros on Pointe Croisette and can be rented for 10,000-12,000 € per month in summer. In the centre of the Croisette, the same apartment will fetch close on 2.8 million euros and bring 15,000 € per month in summer, not forgetting further income earned during congresses and festivals. Less keen on acquiring properties, Russians set their sights on apartments for rent at 4,000-5,000 € per month, settle their families in them, then travel back and forth on their business trips. As for Middle Easterners, they currently spend more time in palatial hotels than in estate agencies on the Croisette. All nationalities combined, the younger generations prove to be the most volatile : a season in Cannes, another in Ibiza, and a third in Saint-Tropez. Which leaves unrepentant fans of the Croisette on the eve of retirement, often living in capital cities and in search of the sun, peacefulness and views of the sea. The success of the Croisette in fact spills over into the town centre, the "Banane" neighbourhood and that of La Basse Californie.
"The Croisette is first characterized by steady prices, the only adjustments occurring during bargaining sessions," comments Guillaume Monney of Michaël Zingraf Christie's International Real Estate. His mostly foreign clients focus on turnkey properties. Examples in good condition which recently appeared on the market sold relatively easily, with less intense bargaining as compared to the 10-15 % reductions sometimes obtained on apartments in need of a revamp. Most of the buyers set their hearts on a clear view of the sea, and therefore require a high floor, a bedroom on the facade with an adjoining bathroom, a second suite and a parking place, all translating into a property of 80 m2 and a budget of around 2 million euros. Clients ready to part with sums over 6 million euros have become rare. A pied-à-terre on the Croisette is also the promise of autonomy, easy logistics and life without a car. Not forgetting potential income from rentals during the Festival, bringing up to 20,000 € per week for irreproachable appointments less than a 5-minute walk from the Palais des Festivals. The Croisette is in fact Cannes' N°1 safe-haven investment. The new "First Croisette" development a stone's throw from the Palais des Festivals consists of 21 luxurious apartments with two to six bedrooms, from 94 to 283 m2, prolonged by terraces of 14 to 118 m2. The penthouse boasts its own private pool. High-end amenities include 7/7 conciergerie service with a reception, a 24/7 security service, private spa, and parking facilities in the basement.