Dotta Immobilier, A Monégasque institution
For 127 years, the family-run agency Dotta Immobilier, with a team of 25, has met the needs of a demanding clientele in the Principality of Monaco, whether for sales, rentals or property management. Its French department meets with resounding success, enthusiasm heightened by the Covid crisis and desires for outdoor living areas.
The Director of Dotta Immobilier, Michel Dotta, is none other than the Chairman of Monaco's "Chambre Immobilière". His century-old agency has always had a strong wind in its sails. A member of its expert and multilingual team, Jennifer Charbit has been at the helm of the Department for Transactions in France for almost four years. Monaco nationals and residents are looking for villas blessed with vast, luxuriant gardens and beautiful views of the sea within a radius of 15 minutes by car around the Principality, ie. between Roquebrune-Cap-Martin and Cap de Nice in 80 % of cases. The most adventurous go as far as Saint-Paul-de-Vence, Mougins or even Saint-Tropez. The aim is simple : weekdays in Monaco where they all pursue their professional activities, weekends with the family in their villa in France. The vast majority of sales lie within the 2 to 6 million euro bracket, as exemplified by a villa sold in turnkey condition at a price between 5 and 6 million euros, renovated, redecorated and fitted throughout, and enjoying spectacular views of the bay of Villefranche-sur-Mer, or a charming house of 260 m2 surrounded by nature in Eze, priced at almost 2 million euros. The market is extremely lively. "The lockdown effect is accompanied by the disappearance of prospects for vacations in paradises at the far end of the world, not forgetting the Côte d'Azur's reputation as a safe haven," says Jennifer Charbit. "It is therefore quite natural that residents of Monaco are looking for a garden of Eden just a few kilometres away." Foreign buyers are also showing lots of interest despite travel restrictions and thus problems regarding visits.
The Dotta agency is highly attentive to its clients' requirements, aiming to get a clear understanding of their desires and the lifestyle they imagine in their second residences. Discussion is paramount and personalized selection of properties beforehand, crucial.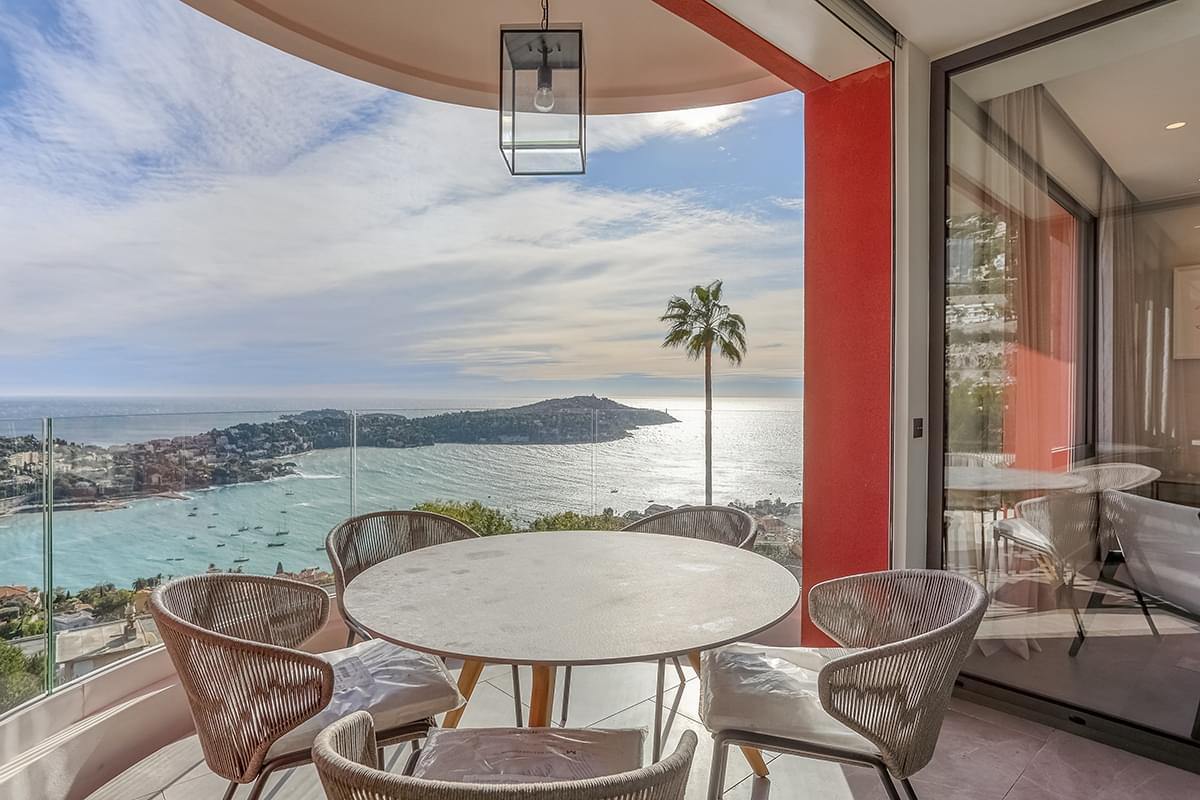 In a residential neighbourhood near all amenities, this magnificent villa, tastefully renovated throughout, offers five suites (one independent). All the rooms enjoy splendid views of the Bay of Villefranche-sur-Mer and Cap Ferrat. The property also benefits from a charming landscaped garden and a swimming pool. Garage and parking space. 5.200.000 €.
In a garden of 700 m2 with a pool, this modern villa in Villefranche-sur-Mer offers living space of 482 m2 (four suites) and a beautiful sea view. A gym, sauna, hammam and movie lounge are on the programme. The property is then completed by caretakers' accommodation and a 5-car garage. 7.900.000 €.
Dotta Immobilier, 5 bis avenue Princesse Alice, Monaco (00377 97 98 20 00). www.dotta.mc