Cap de Nice and Villefranche-sur-Mer
A prolongation of Mont-Boron, the Cap de Nice separates the Lympia port from the bay of Villefranche, ranked as one of the loveliest in the world. In direct contact with the Mediterranean, these two areas with lush vegetation are popular among a local, national and international clientele.
"Scandinavian, British, French, Swiss and Russian buyers appreciate the fact that the Cap de Nice faces south, its unimpeded view of Nice's Bay of Angels or the bay of Villefranche, and the proximity of the most select neighbourhoods in the capital of the Côte d'Azur : the port, Place Garibaldi, the Old Town, Promenade des Anglais, Cours Saleya and even the "Golden Square", a few stops away on the tramway," says Benjamin Mondou of Century 21 Lafage Transactions. In the "Aigue Marine" and "Néréides" residences, 2-bedroomed apartments of 80 m2 in need of modernization fetch close on 1 million euros. Houses offer modestly-sized gardens, a shortcoming largely offset by direct access to the sea. Here, a villa of 200 m2 is worth 3 million euros. Living space of 800 m2 in 5,000 m2 of grounds offering top-notch amenities such as indoor and outdoor pools, a spa and movie lounge attains 20 million euros. The scarcity of available properties explains the low level of transactions in this neighbourhood seen as a very sound investment. Currently, a price of 4.5 million euros is posted for a house of 160 m2 on two floors, in perfect condition, with a garden of 850 m2 that could take a pool.
"The market in Villefranche is much more lively," comments Benjamin Mondou. As witnessed by many requests received from Christmas 2019 to New Year's Day. Scandinavian and English clients rub shoulders with Parisians looking for holiday residences. They all appreciate the sun, sea views, or plunging views of this colourful village. Many even consider settling their families here while making professional trips back and forth to European capitals. 70 % of sales involve apartments, 30 % villas. There is virtually no building land available. Exceptions aside, apartments rang from 7,000 to 10,000 € per sq. metre, depending on their condition, floor and view. The vast majority consist of properties from 70 to 90 m2, opening out to terraces. Villas, usually of about 200 m2, stand in gardens of 800-1,000 m2 with pools, criteria justifying prices of around 3 million euros. Residents of Monaco are also interested in these areas, while international clients fall for the qualities offered by "Le Castelet," a private gated estate comprised of 70 villas, worth from 1.5 to over 20 million euros. Finally, the Avenue Louise-Bordes, on the seafront at the entrance to Cap Ferrat, faces due south, offering age-old trees and very generous living space. This real haven of tranquillity consists of only 10 sublime villas, with nothing to envy of the most luxurious properties on the most expensive cape in France.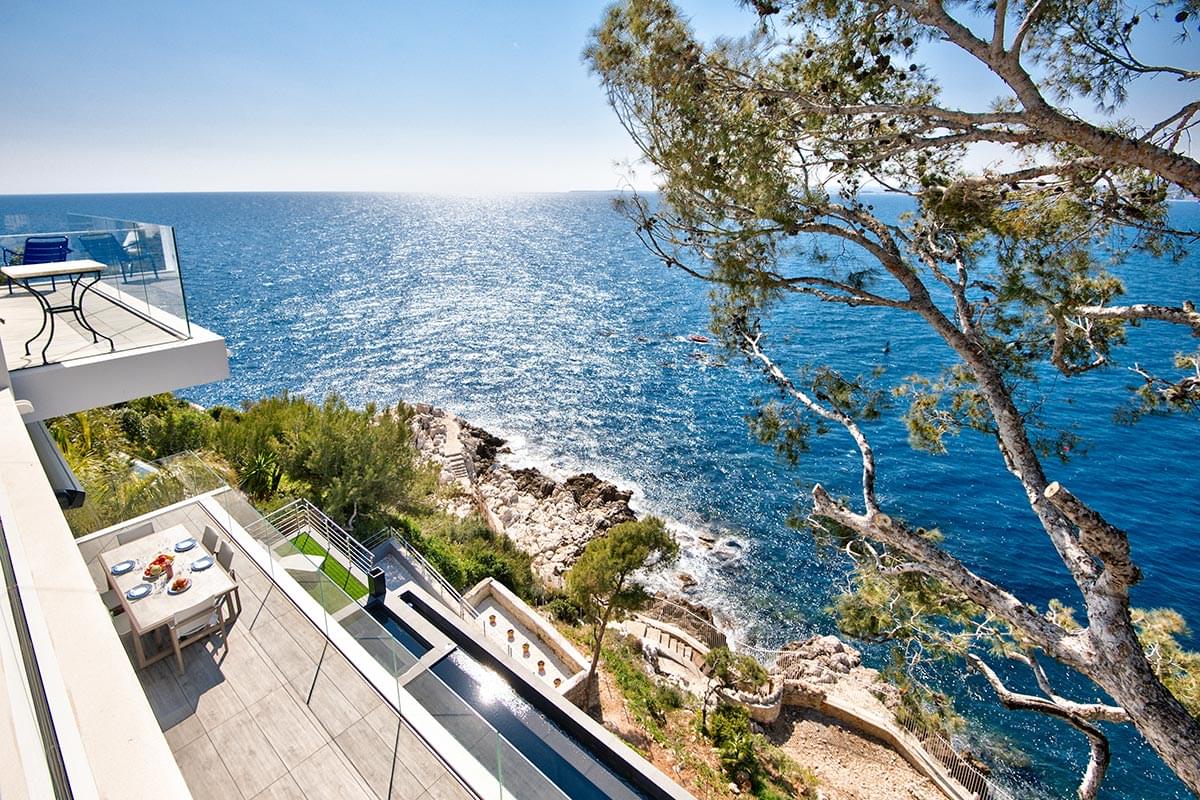 Built in 2019, this property at the water's edge on Cap de Nice is comprised of three floors reached by elevator, with four comfortable suites. Available for rent, 10,000 € per week. Azur Méditerranée (04 93 01 70 75).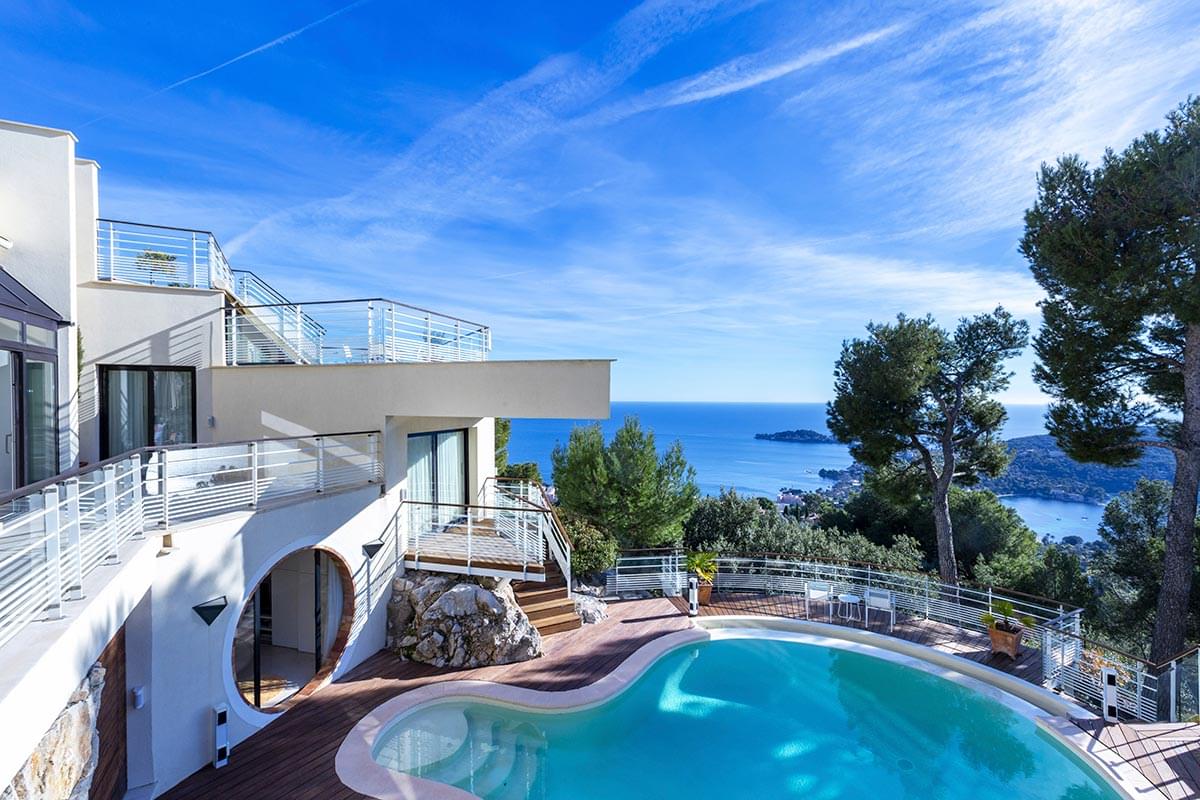 This villa of 388 m2 in Villefranche-sur-Mer (four suites and a self-contained apartment) stands in grounds of 2,234 m2 with a pool, facing the Mediterranean. 4.990.000 €. Century 21 Lafage Transactions (04 93 04 00 40).
"Since the sale of the famous Palais Maeterlinck at 17,000 € per sq.m and three high-quality apartments in 2019 at over 15,000 € per sq.m, the Cap de Nice has now become much quieter," says Michaël Fusaro of Nice Properties. The stock of availabilities is currently of a more traditional kind. On the other side of the Corniche, these apartments cost on average 9,000 € per sq.m, prices also applicable to the port of Nice and Place Garibaldi. The few houses for sale range from 2.5 to 5 million euros. Right now, in this niche market, only two exceptions justify prices over 10 million euros. Apartments at the heart of Villefranche are not lacking in charm despite the lack of lifts, cellars, outdoor areas, views or parking amenities. They fetch 6,000-7,000 € per sq.m, while new developments on the Lower Corniche with panoramic sea views cost around 10,000-12,000 € per sq.m. As for the Col de Villefranche, it appeals to the locally employed, drawn by its closeness to main roads covering the Alpes-Maritimes. Prices start from 8,000 € per sq.m, with spikes up to 12,000 € for magnificently renovated examples in residences with parks, pools and wardens. Buyers now want turnkey properties, restored, redecorated, air-conditioned and fully equipped, especially with the latest home automation. Property dealers in this area strive to meet this demand, with 70 % of properties in portfolios requiring a revamp, at best. Buyers discover Villefranche while on holiday, or maybe already own a pied-à-terre here. Fans of villas search for contemporary-style renovations, picture windows, spectacular views, suites and generous living-rooms.
"Seasonal rentals are doing well, especially at the high-end of the market", says Frédérique Mathias of Azur Méditerranée. "The Cap de Nice has won real international renown, for both its picture-postcard image and the urban restructuring of Nice's port neighbourhood, lying at its feet." Clients now appreciate the capital of the Côte d'Azur as much as the Principality of Monaco. They pay from 10,000 € for a week's stay in a new house - four suites, an elevator to the various floors and direct, private access to the sea. In Villefranche, the famous "Villa Schiffanoia" - 26 rooms including 11 suites - starts from 50,000 € per week with indoor and garden maintenance, exceeding 300,000 € for August. It was occupied for 14 months by Russian clients, replaced this summer by Saudi tenants. In the luxury sector, most rentals range from 20,000 to 25,000 € per week, prices similar, for equivalent properties, to those in Beaulieu and on Cap d'Antibes, and lower than those seen on Cap Ferrat. Plunging views of the sea, the character and charm of the Old Town, its closeness to Nice and its international airport, meet with undeniable success. In 2019, the finest properties found takers, with the mid-range sector meeting competition from Ibiza, Mykonos and, to a lesser extent, Portugal.