Cannes, high temple of luxury real estate
A town of worldwide renown thanks to its Croisette, climate, luxury boutiques, cultural and tourist activities, Cannes can lay claim to some real gems all over its territory. Top-notch markets in privileged surroundings, which post high prices boosted by an elite clientele both French and international.
Offering exclusive properties for sale and to rent, the Michaël Zingraf agency, sole representative of the Christie's International Real Estate network in south-eastern France, focuses on the most desirable addresses in Cannes. A market which has become brisker in 2018, as explained by Angie Delattre, in charge of the prestige department at Michaël Zingraf Christie's International Real Estate : "We are clearly dealing with a buyers' market, which still offers a good number of availabilities and prices which have stabilized. The market is healthier, and the notion of "love at first sight" is tending to disappear. Fine properties sell, but at the right price, people are no longer trying to outbid each other. The core of today's transactions is the 4-8 million euro bracket, still seeing high demand from international clients drawn by the prestige and lifestyle offered by Cannes. Location and a sea view are the top priorities for this clientele. As highly-prized as ever, the Croisette, La Californie, Super Cannes and a few addresses in Le Cannet are home to the most enviable apartments and the most luxurious villas. We recently sold a superb contemporary property of 660 m2 with a pool in Super Cannes, enjoying a stunning view of the sea, for 9,750,000 €. In these prime locations, real opportunities offered by properties requiring renovation should now be seized".
A unique address with an international aura, the Croisette is a prestigious micro-market from one end to the other, offering fabulous panoramic views. In this highly coveted neighbourhood, prices are rising and can attain top levels, as confirmed by Carine Leroux, sales manageress with Forb's Real Estate : "There is a real "Croisette" effect among clients who focus their searches solely on this stretch of the seafront, and even its very heart, that's to say between the Majestic and Martinez Hotels. Choice here is thus limited and highly elitist with prices reflecting the fact, between 20,000 and 30,000 € per sq.m, though rapidly attaining 40,000 € per sq.m or more, depending on the floor, view, the residence's appointments, and the apartment's condition. For these luxury apartments, real gems offering spectacular views of the sea, we are mainly contacted by foreign clients wanting to acquire a holiday home. Even so, French buyers are very active on this market with, in particular, several penthouses recently acquired or belonging for several generations to prominent French families. Reserved for a very wealthy clientele, the Croisette is still seen as a sound long-term investment".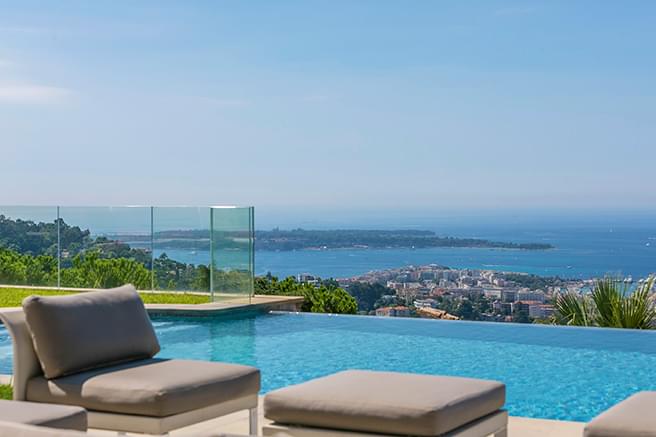 Nestling at the heart of the unique, gated and guarded estate of Super Cannes, this magnificent modern villa with swimming pool offers a 180° view of Cannes and its surrounding area. On three floors, the villa of 250 m2 is comprised of vast living areas, a gym, 5 bedrooms (one opening out to the terrace). Garage and parking place. 4.990.000 €. Michael Zingraf (04 93 39 77 77).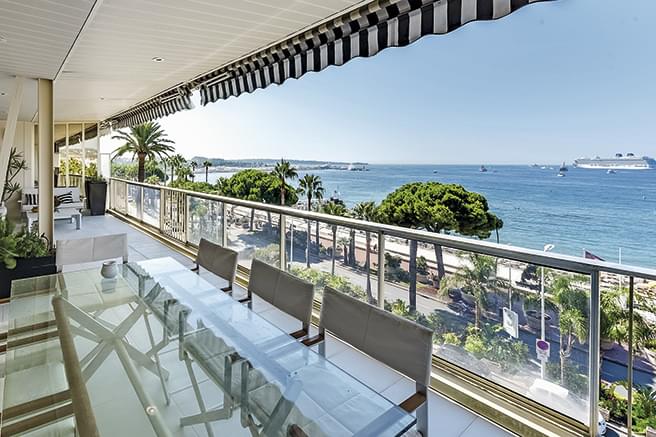 On the top floor of an intimate residence between the Carlton and Martinez on the Croisette, this apartment benefits from spacious terraces and a panoramic view of the sea. Its living space of 240 m2 is comprised of a double living-room, 3 en-suite bedrooms, plus a master suite of 90 m2 with a large open-air terrace facing the sea. Between 5 and 10 M €. Forbs Real Estate (04 93 39 39 39).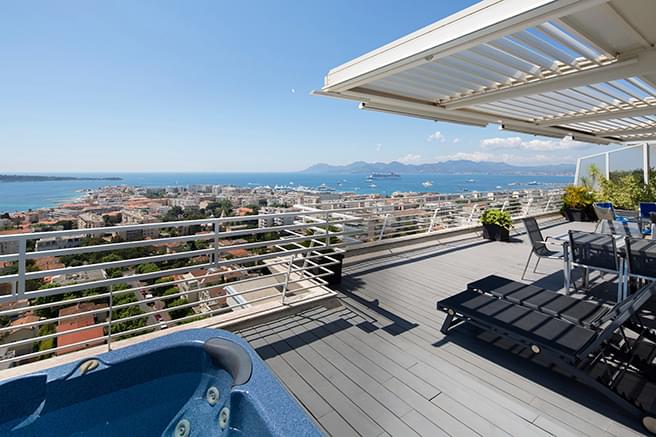 Occupying the top floor of a gated residence in Lower Californie and offering a "walk everywhere" lifestyle, this superb penthouse enjoys a stunning panoramic view of the Bay of Cannes, the Lérins Islands, and as far as the Estérel hills. Its living space of 144 m2 is comprised of spacious day areas and 3 bedrooms. A cellar and garage complete the property. 3.750.000 €. John Taylor Cannes (04 97 06 65 65).
A town instantly associated with luxury, Cannes continues to appeal to a well-off international clientele looking for second residences. A clientele which has evolved and is adjusting its demands, according to Sylvain Boichut, Executive Director for France with John Taylor : "Cannes draws a foreign clientele younger than before, on average from 40 to 50 years old. These demanding clients have also become impatient as consumers. And while there is a good choice of luxury properties in Cannes, there is a lack of homes that are ready to move in. Apartments and villas in need of renvation tend to linger on the market. Foreign buyers prefer to pay more from the outset than have to deal with this tedious interlude. Long present in Cannes, buyers from the Middle East partly compensate for the significant drop in the number of clients from Eastern Europe. We are also seeing a comeback on the part of buyers from Scandinavian countries and the Benelux. The French still believe in investing in real estate on the Côte d'Azur, rubbing shoulders with the ever loyal British, the founders of Cannes. The Croisette is still the flagship address for the top end of the market. The "First Croisette" development, for example, a residence undergoing construction, is a perfect illustration of the demands of this international clientele used to standards attained in the world's capitals : modern architecture, spa, gym, conciergerie… In all, 21 exclusive apartments, four of which have already been sold. "First Croisette" already holds a record on the Croisette, as Dolce & Gabbana will occupy all of the building's commercial premises, ie. 1,300 m2, a transaction handled by John Taylor".