Cannes, a safe haven
Halfway between Monaco and Saint-Tropez, this town with almost 75,000 residents sees its population triple in summer. Scoring one of the highest performances in Europe, its "Palais des Festivals et des Congrès" can claim second place in France in the rankings of international trade fairs. Cannes also holds the same position in ratings of business destinations.
Facing the Mediterranean, this renovated apartment on the Croisette offers living space of 150 m2 (two bedrooms, a study, three bathrooms), prolonged by a terrace of almost 16 m2. 3.180.000 €. Engel & Völkers Côte d'Azur (04 93 68 64 72).
Facing the Mediterranean, this renovated apartment on the Croisette offers living space of 150 m2 (two bedrooms, a study, three bathrooms), prolonged by a terrace of almost 16 m2. 3.180.000 €. Engel & Völkers Côte d'Azur (04 93 68 64 72).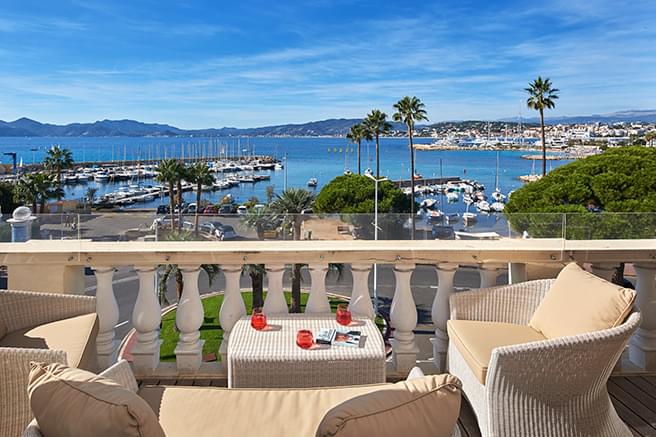 In the residential neighbourhood of La Californie, overlooking the sea, Cap d'Antibes and the Lérins Islands, this Art Deco villa of 580 m2 is in immediate proximity to the Croisette and the beaches. 12,5 M €. Michaël Zingraf Real Estate Christie's (04 93 39 77 77).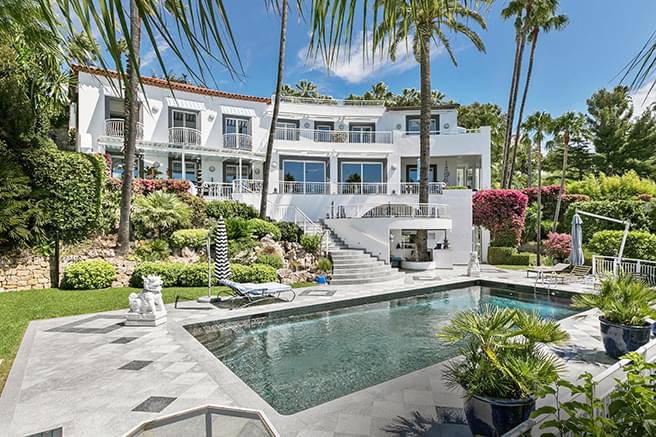 In a residential area on the hills of Cannes, 5 minutes from the centre and beaches, this villa offers five suites in 4,000 m2 of grounds. 4.450.000 €. Croisette Properties (04 93 68 93 25).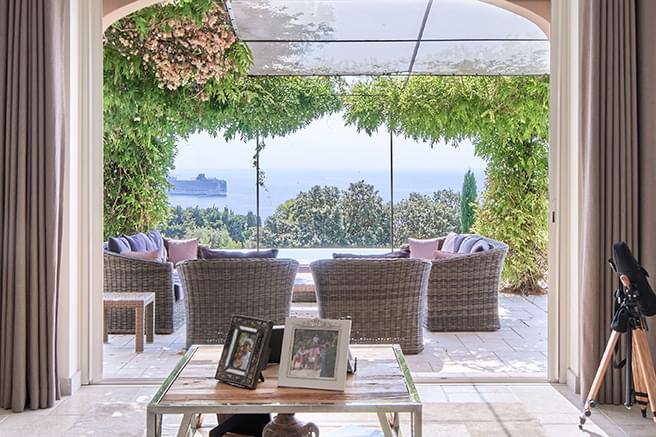 25 km from the Nice Côte d'Azur International Airport, Cannes celebrated the 70th anniversary of its International Film Festival in 2017. Each year, the Croisette with its palatial hotels, luxury boutiques and yacht harbours invites itself via TV screens into homes all over the world. La Californie, Super-Cannes and La Croix-des-Gardes are leafy neighbourhoods offering plunging views of the bay, the Mediterranean and Lérins Islands. From ultra-modern buildings to the architectural legacy left by the English aristocracy and White Russians of the 19th and 20th centuries, Cannes unfurls the entire palette of luxury real estate.
"A hyper-active town, Cannes is a reassuring address for buyers," says Marie-Claire Sangouard of Engel & Völkers. "It does not merely content itself with drawing wealthy tourists from all over the world : this lovely town on the Riviera hosts congresses and festivals all year long." German, Swiss, Belgian and Italian clients rub shoulders with a few Russians and buyers from the Emirates. French clients set their sights on rental investments, apartments in the centre ranging from 6,000 to 8,000 € per sq. metre, below the bar of 1 million euros. The Croisette posts prices from 15,000 to 40,000 € per sq.m, corresponding to exceptional penthouses, with an average range of 20,000-30,000 € per sq.m. The Palm Beach area offers a village atmosphere, a peaceful, well-preserved enclave within walking distance of the Palais des Festivals which also benefits from good public transport. With pools, tennis courts, jogging paths and shuttles, luxury gated residences in La Californie appeal to Swiss and Belgian buyers. Two apartments on upper floors, of 180 and 200 m2 respectively, just found takers here at 1,450,000 and 2 million euros, while a villa of 200 m2 in need of a revamp, in grounds of 2,500 m2 on the boundary of Cannes, sold for 1.6 million euros. The lucky owners clearly focused on the location. High-end properties - ie. those worth over 20 million euros - are still highly prized, though transactions are naturally rarer. Now very careful about prices, buyers compare, analyze and negotiate. For the manageress of Engel & Völkers, about 20 % of clients arrive through the network to some 10,000 agents in over 30 countries.
Heading up the Prestige department of Michaël Zingraf Real Estate Christie's, Angie Delattre describes a core market between 4 and 6 million euros for high-end houses. Everyone is drawn by the ultra-contemporary style, at least for interior decor. In La Californie, 4 million euros is the starting-price, whereas this same amount will bring a desirable villa in Super-Cannes. Angie Delattre mentions the recent sale of two properties in need of total renovation giving total living space of 700 m2 in grounds of 3,800 m2 with two pools, in the middle of La Californie, priced at 6.9 M €. Over in Super-Cannes, a Californian-style property of 400 m2 in perfect condition, in grounds of 2,000 m2 facing the Bay of Cannes, found a new owner for 5 M €. Town houses, rather rare, are also popular among the clientele. Cannes is a steady, stable market, even if buyers have a choice, and currently the upper hand. The notion of a sound investment is frequently an underlying consideration. A view of the sea is still the N°1 criterion, closely followed by the address. Property-dealers are always interested in opportunities requiring rehabilitation, though 85 % of clients are looking for turn-key holiday homes. The seasonal aspect no longer exists : buyers are now physically present in Cannes from January to December.
Among the agency's most recent sales, Karim Abel of Croisette Properties mentions a house of 380 m2 in grounds of 2,500 m2, overlooking the sea from La Croix-des-Gardes, snapped up at 4 million euros. Probably to be occupied periodically over the next few years, it will then become the new owner's permanent home. Budgets for year-round residences are not necessarily lower than those of holiday homes. And the logic behind an investment certainly does not exclude personal liking for a property, nor its appeal in terms of esthetics and enjoyment. Out of every ten sales, six are apartments. Though the four villas generate higher sales revenue. The market for apartments is shared out evenly between French and foreign buyers, whereas the market for houses is highly "international". The choice of Cannes is clearly motivated and very determined. Le Cannet, the Chemin des Collines or Vallauris, an immediate extension of Super-Cannes, are seen as obvious fall-back markets, slightly less expensive for the same quality. But Cannes remains a real "calling card", a very enviable address. "For both houses and apartments, and all budgets combined, 2017 has been a very good vintage," comments Karim Abel, mentioning this year's sale of two magnificent penthouses of over 200 m2 on the Croisette, at over 10 million euros.
By Laetitia Rossi