BEAULIEU-SUR-MER, A TOWN ON A HUMAN SCALE
Ideally located between the uppercrust Principality of Monaco and Nice Côte d'Azur International Airport, this little town just east of Cap Ferrat is also a neighbour to the no less idyllic Eze and Villefranche-sur-Mer. Names that conjure up picture-postcard scenery...
Just over 3,700 people live in Beaulieu all year round. This, the smallest town in France with a surface area of 0.92 sq. km boasts a train station, a casino and two harbours. It has retained a "Belle Epoque" architectural legacy from its days as a famous 19th-C. seaside resort, popular among the crowned heads of Europe and 19th-C. celebrities.
"Beaulieu's real estate market is doing well, with on-going interest from foreigners, Swiss, Belgians, Scandinavians, East Europeans, and more generally residents or people working in Monaco," says Esther Van Overbeek of the Agence Haussmann. Strong demand and limited supply keep prices high. Houses show a strong predominance in this municipality where owner-occupiers account for 47% of the property scene, with holiday homes representing 41% of the accommodation. The average price per sq. metre is around 6,900 € for old apartments, with an overall price bracket from 4,200 to 11,000 € depending on the neighbourhood, the residence's stature, and the property's specific features. In new residences, offerings are scarce and prices per sq. metre range from 13,000 to17,000 €. Villas offer a wide variety of styles and prices depending on their location, in the town centre, on the Boulevards Edouard VII, de Suède and Gordon Bennett, or on the front row in La Petite Afrique, ranging from two to several tens of millions of euros. In the centre, crossed by the lower Corniche and the railway line, prices are more affordable, around 6,000 € per sq.m. Unlike Beaulieu, Villefranche does not have a real town centre. A fact that often makes a difference, even if this neighbouring commune offers breathtaking sea views and also attracts many fans.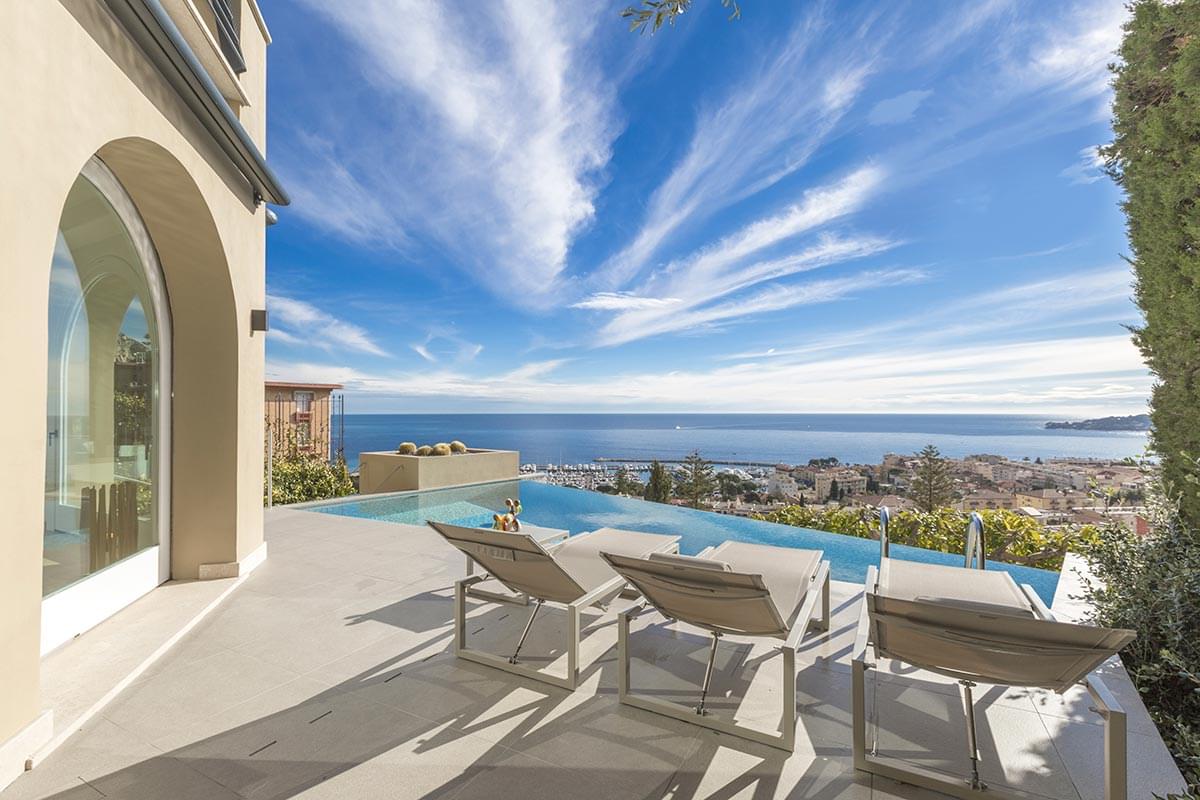 In the highly-prized neighbourhood around Boulevard Edouard VII, this superb villa of 175 m2 (two floors reached by lift) opens out to the Baie des Fourmis. 3.850.000 €. Century 21 Lafage Transactions (04 92 26 10 00).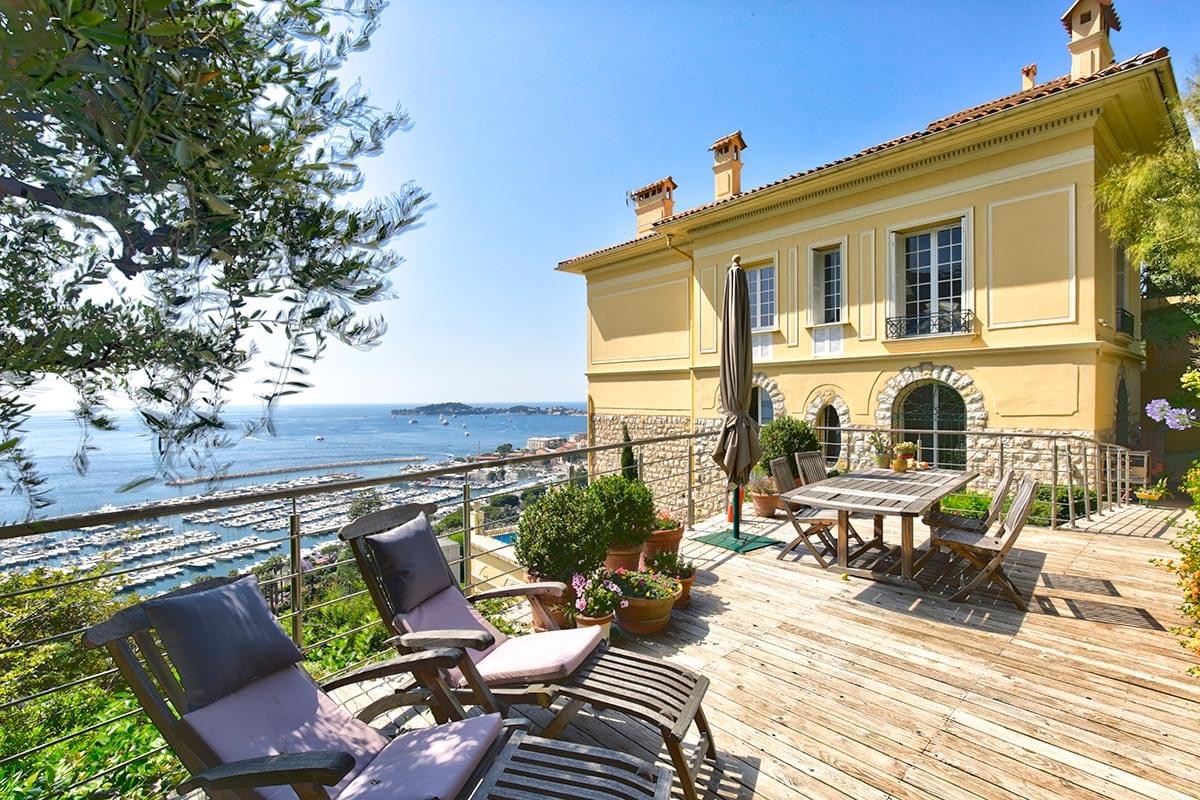 In a sumptuous "Belle Epoque" residence, this apartment offers living space of 250 m2 (three suites and a study) facing the sea, the harbour of Beaulieu and Cap Ferrat. 3,2 M €. Agence Haussmann (04 83 84 84 84).
"Beaulieu is a town on a human scale between the "Golden Triangle", also formed by Villefranche and Saint-Jean-Cap-Ferrat, and the Principality of Monaco," explains Marie-Claire Sangouard, General Director of Engel & Völkers Côte d'Azur. "The layout of the heart of the town ensures that all shops and amenities are within walking distance, and offers a pleasant life all year round. The village atmosphere attracts clients who fall for the charm of the address and its sublime views of the famous cape." The quest for the right price is the guarantee of market fluidity. Most transactions involve second residences. Buyers are 60% foreign, 40% French. Americans and Russians are making a comeback, Australians also show an interest, together with clients from some emerging countries. Most of the buyers are, however, North European. Most of the sales of apartments, often without terraces or balconies in "Belle Epoque" buildings in the centre, range from 700,000 to 2 million euros, depending on their views, surface areas and condition, while villas regularly attain 5 million euros or more. For example, an apartment of 70 m2 on the heights of Beaulieu, fully renovated and opening out to a terrace of 45 m2 facing the Mediterranean, is on offer at 890,000 €. A new penthouse of 123 m2, extended by a terrace of 75 m2, bears a price-tag of 2.1 M €. In the centre, a mansion of 500 m2 in need of restoration is up for sale at 3.3 million euros.
"Clients appreciate the "Golden Triangle" in general, and it is then the property's intrinsic qualities that make the difference between the three addresses. "Belle Epoque" architecture, to the taste of the English, Scandinavians and Russians, remains the prerogative of Beaulieu," explains Benjamin Mondou of Century 21 Lafage Transactions. Everyone likes historic sites and old stone that has taken on a sheen over the years. Based on equivalent criteria, Cap Ferrat's real estate is 30% more expensive than that of Beaulieu, which is itself comparable to that of Villefranche. "But the town's greatest asset is its centre, its local shops, its fashion, lifestyle and interior decor addresses, its new restaurants, such as La Fabrik, its disco, Sky Beach, its private beaches and nautical base. No need to travel to Monaco for entertainment. La Réserve and the Royal Riviera also play their part in promoting the destination." There is also now a real market for modern villas, properties in which dealers and developers can express their tastes. 22 M € is the asking price for a villa of 600 m2 in grounds of 3,000 m2 with generous utilities - a 7-car garage and a gym -, and a unique view of the Bay of Beaulieu and Cap Ferrat. The property inspires visits and justifies interest on the part of qualified buyers. This is a limited category in Beaulieu and Villefranche, more widespread on Cap Ferrat, where many Provençal villas have been razed to the ground to make way for superb contemporary properties.