A breeze of optimism in Mougins
This garden-village with 18,500 residents is extending horizontally. As renowned as much for its neo-Provençal villas as for its medieval village with lots of art-galleries, it lies between Cannes and the area around Grasse, hosting part of the Sophia-Antipolis science and technology park
Laid out around its spiral-shaped village, Mougins is only a 6-minute drive to the Festival City. Covered with pines, green oaks and century-old cypressses, 50 % of the commune consists of natural greenery. The forest park of La Valmasque of 1,055 acres is only 30 minutes from the Nice Côte d'Azur international airport and 6 minutes from the SNCF train station of Cannes-Mougins.
"Eighty per cent of our buyers are French, mainly senior executives," says Christophe Grenes of the Coldwell Banker agency. "They appreciate the closeness of the motorways, the employment pool at Sophia-Antipolis, the international Mougins School and Centre International de Valbonne (CIV college). Most of them are looking for villas on guarded and gated estates." Prepared to pay from 1 to 1.5 million euros, the locally employed often compare Mougins with Valbonne, Biot, Mouans-Sartoux or Opio. Holiday residents, comprised more of foreigners, Scandinavians and north Europeans fond of the Côte d'Azur, benefit from budgets of 2 million euros on average. For 1.5 million euros, one can reasonably aim for a house of 200-250 m2 in good condition in grounds of 1,500 m2, on an estate. Within this price bracket, choice is currently wide and varied. One would then need 4.7 million euros to acquire living space of 600 m2 with a panoramic view of the sea in a park of 4,500 m2 in the Saint-Barthélemy neighbourhood. There is a real connection between the town of Cannes and the village of Mougins. Couples with children dream about quietness and villas with gardens, not hesitating to leave the shoreline, while older owners of such properties in Mougins do just the opposite, drawn by the convenience of apartments in town. Over the past 18 months, the market has been particularly lively, fuelled by low mortgage rates and more realistic prices.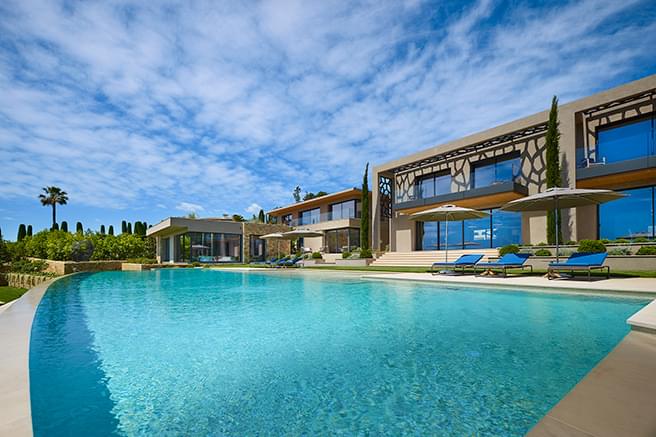 A few minutes from the old village and 7 km from the coast, this new villa offers living space of 1,210 m2 (12 bedrooms) in 7,583 m2 of grounds. The luxury services offered by "La Réserve" include a professional spa, a massage room, a hi-tech movie lounge, a wine cellar, and a 2-bedroomed apartment for house staff. The guest-house offers two suites. In the park, the 20-metre pool is near the tennis court and fully equipped pool-house. 38,5 M €. Knight Frank (04 97 06 30 30).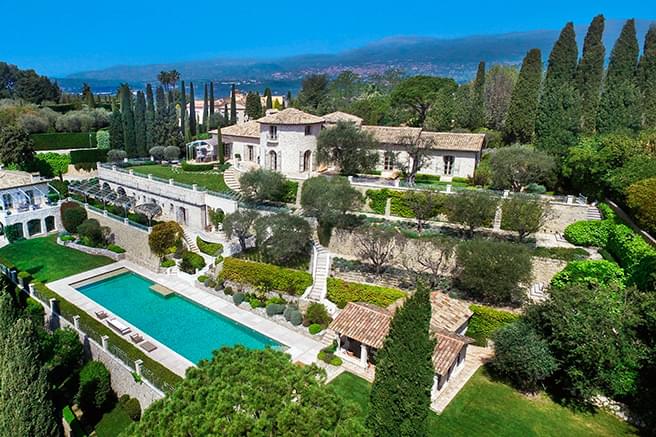 In an elevated position, this prestigious property, modernized throughout in 2018, offers living space of approx. 700 m2 shared out between the main residence with its 3 suites and 2 self-contained apartements, and a second villa, in a park of 6,500 m2 with heated pool, pool-house and garage. 18 M €. Label Properties (04 93 75 30 64).
"Everyone joins the tennis, golf and riding clubs, charmed by this serene and countrified setting," says Fredrik Lilloe of Knight Frank. Most of the sales handled by the agency range from 1.5 to 4 million euros, with an average of 2.8 million recorded in 2017, the sum required for a tastefully renovated house of 250 m2 (five bedrooms) in grounds of 2,500-3,000 m2. The most usual ratio is close on 10,000-12,000 € per sq. metre. There is also a high-end bracket, from 5 million euros, the budget required for a residence of 400 m2 with a tennis court, facing south towards the sea. Currently proposed at 38.5 million euros, "La Réserve" tops the bill, with record sales prices in Mougins posted at 27 and 22 million euros respectively. Over and above 10 million euros, demand is naturally lower. The area is extremely popular, closely followed by Valbonne and Saint-Paul. As witnessed by ever-growing numbers of pupils at Mougins School. "Another illustration of current momentum is that the rental market, with monthly rents ranging from 10,000 to 20,000 €, is doing well. It is often the springboard to an acquisition," notes Fredrik Lilloe, who also manages Riviera Luxury Rentals.
"Since the presidential election, most of our sales have ranged from 1.2 to 2.5 million euros, a market largely driven by French buyers from other regions, drawn by retirement in the Riviera sun, the quiet and natural haven of Mougins with its many shops, amenities and golf-courses, and the proximity of the centre of Cannes and the international airport," confirms Michel Brévier of Label Properties. Previously active at the top end of the market, English and Russian clients are now, however, thinner on the ground, whereas French and north European buyers are much more in evidence. The secret of fluidity lies in the value-for-money factor. One of the largest in France, the commune plays host to many real-estate professionals, shared out evenly in the various sectors. The current period calls for optimism : Michel Brévier has just sold four houses priced at around 2 million euros in the past three months.