VILLEFRANCHE-SUR-MER, A VERY ACTIVE MARKET
Separated from Nice by Mont-Boron, Mont-Alban and Mont-Vinaigrier, this town laid out like an amphitheatre facing the Mediterranean is only 10 km from the radiant Principality of Monaco. Rising up above its bay, this lovely town offering picture-postcard scenery wins everyone's votes.
Sheltered from the wind thanks to its tall cliffs, Villefranche, inhabited since the Age of Antiquity, boasts one of the deepest natural anchorage areas in the western Mediterranean. A favourite destination among cruise passengers, it stretches from the shoreline to Mont Leuze, rising to an altitude of 577 metres. Three "corniche" roads cross Villefranche east to west, offering panoramic views of the sea from different heights. Out of the 5,150 homes in this picturesque town, almost 40 % are second residences.
"Its topography allows Villefranche to offer many points of view of the village, the bay and Cap Ferrat," says Jean-Philippe Costa of Blue Immobilier. Villefranche-sur-Mer offers both residential areas and some exceptional addresses. Starting with the Avenue des Serres, acclaimed for its sunny outlook and view, Avenue Louise-Borde with its large properties, and Avenue Léopold-II with its famous "Léopolda" and "Saint-Segond", undoubtedly the most exclusive villas in Villefranche, while the equally renowned "Schiffanoia" is now suffering somewhat from ageing. One client recently paid 15 M € for a plot of 1,400 m2 on the second row, with a house undergoing construction, backing onto woods of just under 2.5 acres in the neighbourhood of Les Serres. Since entrusted to a South-African firm of architects, the project provides for living space of 1,400 m2 with high-spec appointments. If it came back onto the market, the property could well fetch around 50 M €. North European buyers are particularly active, with Italians making a noticeable comeback. The very typical Old Town of Villefranche attracts those looking for pieds-à-terre, ranging from 500,000 to 1 M€. The area directly below the Col de Villefranche has witnessed several operations undertaken by property dealers. Les Cistes, below the fortress, then plays host to about ten quiet houses in the maquis, facing both the Bay of Angels and Cap Ferrat. One example of 250 m2 to be transformed into a residence of 350-400 m2, and likely to be worth 5 M € when the work is done, found a taker at 2.2 M €. One can hardly talk about Villefranche without mentioning Le Castellet. "This select estate is suffering from disenchantment among the owners," regrets Jean-Philippe Costa. "It could be shown off to better advantage, enhanced by a new gate or services. Something Le Val des Costes in Saint-Laurent-d'Eze has succeeded in doing."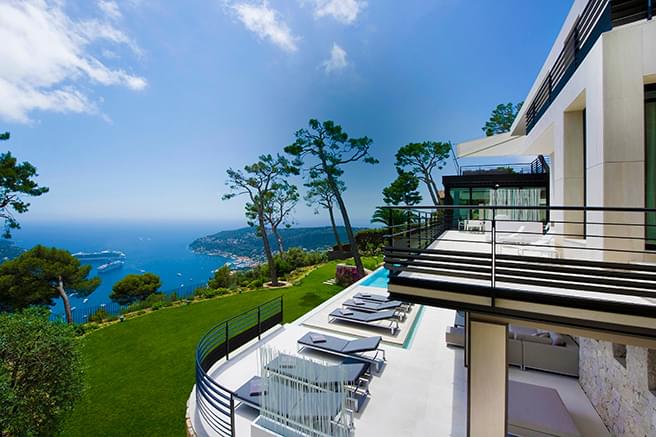 This luxury property on the private Domaine du Castellet offers living space of 300 m2 (5 suites) in grounds of 2,000 m2. More than 15 M €. Savills French Riviera (04 93 76 80 80).
In a quiet spot between the Lower and Middle Corniches, this villa in Florentine style offers living space of 550 m2 in landscaped grounds of 1,800 m2 with a pool and outdoor kitchen. A spa, gym, massage room, hammam, sauna, and no fewer than two elevators are among its amenities. 15 M €. Blue Immobilier (04 93 01 01 61).
"The market is doing very well," confirms Alex Balkin of Savills French Riviera. Prices practised in Villefranche are more realistic than those applied in neighbouring Cap Ferrat. Outstanding sales are synonymous with stun­ning views of the sea and generous surface areas - ie. living space of over 500 m2. A benchmark example worth around 15 M € in Villefranche may well be priced from 20 to 25 M € on this peninsula blessed by the gods, depending on its location, and even more for properties right at the water's edge. In the so-called "exceptional" category, the trend is clearly towards vast open spaces, particularly sought-after by residents of Monaco. Rarer in Beaulieu-sur-Mer, residences with swimming pools have their fans, offering studios at 200,000 € to renovated apartments of 150 m2 with terraces and panoramic views of the Med at 1.5 M €. In these cases, buyers are more likely to use their cars, whereas in the centre of Beaulieu everything can be done on foot. Most buyers are looking for holiday homes, whether apartments from 700,000 to 800,000 € or villas from 2.5 to 3.5 M €, the sum required, for example, for a house of 240 m2 in need of a revamp, in grounds of 2,000 m2 on the Grande Corniche. Buyers now benefit from a wide choice : they make lots of visits, compare and bargain.
"Currently in high demand are 2-bedroomed apartments with terraces, sea views and, if possible, in very good condition, benefiting from access to the pool of a residence near amenities," says Benjamin Mondou of Century 21 Lafage Transactions. "On January 3rd alone, the agency in Villefranche received three enquiries from couples in search of holiday homes, French, English and Swedish, prepared to pay from 600,000 to 1 M €." In general, buyers are looking with no particular preference for properties on Cap de Nice, Mont-Boron or in Villefranche-sur-Mer. Villas also draw fans of the contemporary style, ready to part with 3 to 4 M €. At the top end of the scale, from 5 to 20 M €, activity is also picking up. Which is also true for Beaulieu and Cap Ferrat, except that here the starting price for luxury is 10 M €. "2017 saw a 15 % rise in turnover and also a higher number of transactions. There is no longer any "low season". Even at Christmas, numerous Italians stepped inside our agencies, undoubtedly the result of two decades of being active in the area and belonging to international networks."