THE PRESTIGIOUS ILE DE RÉ : THE LUXURY OF OLD STONE
Much appreciated for its peacefulness, magnificent nature and sublime residences facing the ocean, the Île de Ré draws a wealthy clientele wanting to live here permanently or acquire a holiday home. Update on this highly-prized market with Germain Tournoys, manager of the Agence Barnes Ile de Ré.
Prestige properties are rare on the market, changing hands at several million euros. "Being a home-owner on the Île de Ré is a luxury in itself," says Germain Tournoys, making things clear from the start. Listed and well-preserved, this little island with stunning panoramic views indeed provides living conditions of top-notch quality. Mainly comprised of houses, its real-estate market contains real treasures of stone residences, steeped in history, rarely up for sale, and even then posting hefty prices : "In the prestige sector, prices range from 7,000 to 10,000 € per sq.m, ie. several million euros for a house offering beautiful appointments and ocean views. We recently sold a property of 245 m2 in La Flotte with a garden and swimming pool, for 2.6 M €. The prestige sector is a slow-moving market, with very few availabilities." Drawing a clientele with high purchasing power, the Île de Ré is mostly of interest to French buyers : "They account for 70% of the clientele, a figure of which around 40% is made up of French ex-pats. The remaining 30% is international, consisting of Belgian and English buyers, and to a lesser extent Swiss and Germans. The island's authenticity, harmony, peacefulness and beautiful environment make its ten villages highly coveted. The market here for properties from 1 to 2 M € is, however, very lively. We are confident that in 2018 the Île de Ré will remain a safe haven. Offerings are becoming a little more frequent and we are thinking about opening a second agency on the island."
Barnes Ile de Ré, 19 Cours Félix Faure, La Flotte en Ré (05 46 69 66 71). www.barnes-iledere.com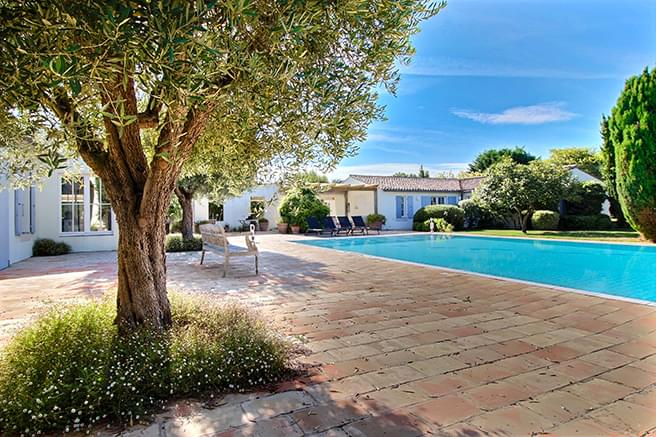 Between the village of Les Portes and the beach, this superb property is set in over 4,000 m2 of grounds with a garden offering several different areas with a pool, terrace, porch, orchard and shaded outdoor lounge. In its generous volumes totalling 400 m2, it stands out for its beautiful living rooms and master suite. The annexes are comprised of 4 bedrooms and a guest cottage with a living-room, kitchen and 2 bedrooms. Parking space and garage. 3.990.000 €.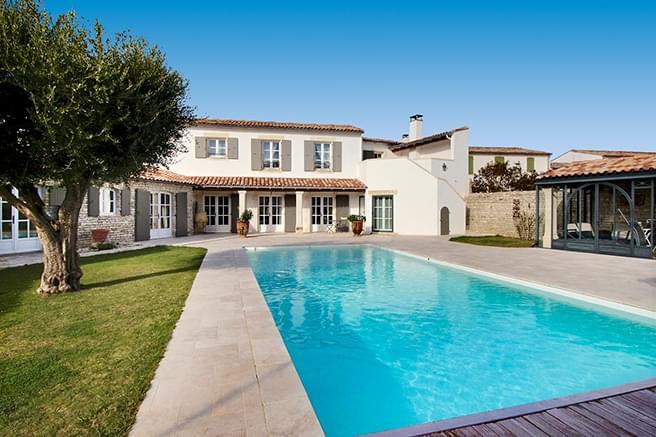 This superb, light and airy house on the commune of Le Bois Plage stands in grounds of over 1,000 m2 benefiting from a sunny outlook with a garden, pool, porch and summer kitchen. In perfect condition, the living space of 344 m2 offers a lounge with hearth, a dining-room, fitted kitchen, a study and 6 bedrooms. Garage and parking area. 2.690.000 €.