THE BEATING HEART OF PARIS
The charm of old stone, everything within walking distance, up-market bars, boutiques and restaurants… The capital's first four arrondissements are ever more popular among Parisians and foreign buyers. Growing appeal which has made prices soar to over 15,000 euros per sq. metre in the most sought-after neighbourhoods.
While the 1st, 2nd, 3rd and 4th arrondissements of Paris offer different facets, they all enjoy highly strategic locations which inevitably draw city-dwellers. As confirmed by Emmanuel de Poulpiquet of the Daniel Féau Marais agency : "Today, luxury in Paris is being able to do everything on foot or bike, a policy backed by the Mayor of Paris, Madame Anne Hidalgo. A fact that has caused an explosion in demand and prices in these arrondissements which are now cruelly lacking in available properties. In ultra-central neighbourhoods such as Le Sentier, which is seeing widespread transformation, you find lots of offices and small apartments : family-sized apartments are rare. Smart old buildings dating back to the 17th and 18th centuries appeal to foreign buyers in search of a pied-à-terre who set their sights on highly-prized neighbourhoods such as Rue Saint Honoré, the gardens of the Palais-Royal, Place des Victoires, Montorgueil and Le Marais. Parisian families and French ex-pats are also very fond of the character and life-style offered by these central arrondissements. High-end properties offering extensive living space, a view, and a lift, are snapped up at dizzy prices. We recently sold an apartment of 121 m2 on the 6th floor of an elegant Haussmann building with a lift, on Rue Réaumur, in perfect condition and enjoying a wonderful open view, priced at 1,570,000 €".
The Parisian art of living clearly comes at a price ! In these central arrondissements, prices have in fact risen on average to 11,000-13,000 € per sq.m or more, depending on the property and its precise neighbourhood. A rise that reflects the general trend for the market in Paris, as explained by Eric du Plessix of the Galerie de l'Immobilier. "In 2017, very strong demand inevitably led to a considerable rise in prices : over 10% on average in central arrondissements. Lending rates, the Brexit phenomenon and the French elections have made Paris even more attractive. As proven by a significant return on the part of foreign buyers : from the UK, Italy, the USA and the Middle East, they are very active on the market. They are, of course, drawn by the life-style, the beauty and landmarks in central neighbourhoods, but more generally, they see Paris as a safe haven in terms of investment. The centre of Paris means the Cathedral of Notre-Dame, Place de la Concorde, the Île Saint Louis, the Seine and its quaysides, Place Vendôme, the Opéra…, picture-postcard images portraying the elegance and history of Paris, and offering very impressive architecture. These neighbourhoods boast opulent and typically Parisian buildings dating back to the 17th, 18th and 19th centuries, which foreigners adore. The apartment on the Quai aux Fleurs that we are currently offering for sale offers all these attributes, with an extraordinary view of the Hôtel de Ville and the Seine as a bonus."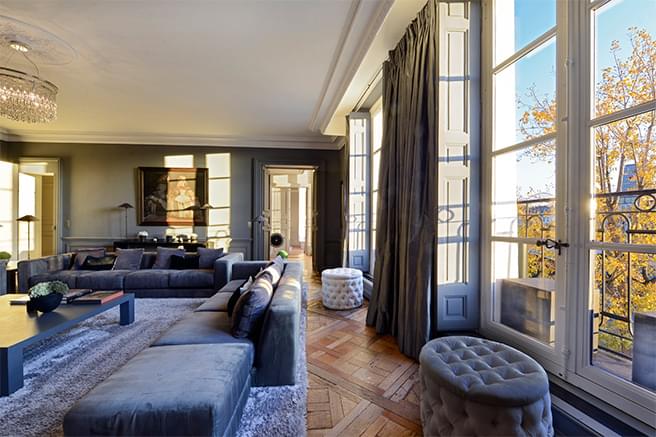 On the 2nd floor of a very handsome 18th-C. building on Quai d'Orléans, one of the most desirable addresses in Paris, this magnificent apartment ideal for entertaining faces due south with unimpeded views of the Seine and Parisian landmarks. Its living space of 200 m2 is comprised of a reception room, dining-room, a large kitchen, a study and 3 bedrooms. A studio apartment completes the property. 7 M €. Daniel Féau Marais (01 44 54 15 32).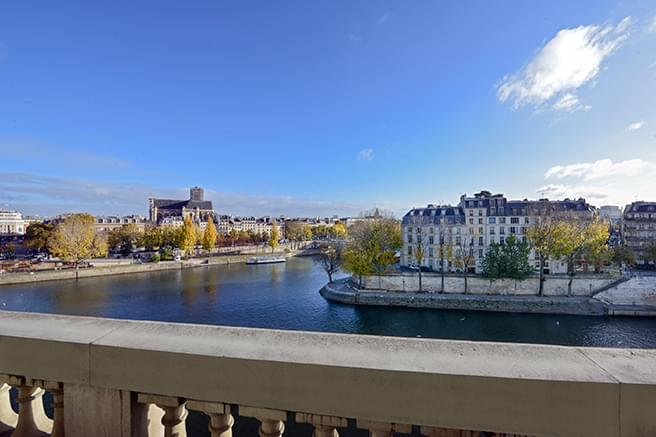 Occupying the 4th floor of a very elegant late 19th-C. building on the Quai aux Fleurs, this superb apartment of 215 m2 overlooking the Seine offers a balcony of 12 m2 running its length and a stunning view of the Hôtel de Ville, Notre Dame and the Île Saint Louis. It is comprised of an entrance foyer, a reception room, study/library, and 3 bedrooms including a master suite. The property is completed by 2 staff bedrooms. Between 5 and 10 M€. Galerie de l'immobilier (01 56 24 44 26).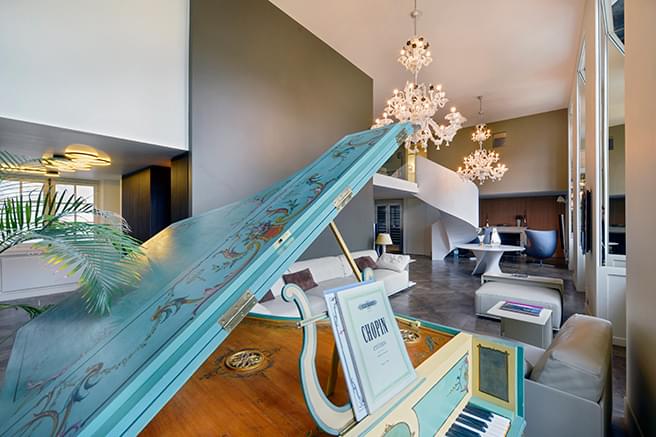 Between Place des Vosges and the Bretagne neighbourhood, in the Hôtel du Grand Veneur (a listed monument), this beautiful bright apartment of 206 m2 benefits from total peace and quiet, between the court of honour and the gardens. On two floors, it is comprised of an entrance hall, a kitchen, double reception room, relaxation area, and 3 bedrooms including 2 suites. Cellar, two parking places. 4.950.000 €. Daniel Féau Marais (01 44 54 15 30).