Saint-Paul-de-Vence, the promise of an idyllic lifestyle
Perched on a rocky outcrop, this authentic village offers picture-postcard scenery 15 minutes from Nice Côte d'Azur International Airport, the coast, main towns in the Alpes-Maritimes, and only 5 minutes from Polygone, the open-air "5-star" shopping mall in Cagnes-sur-Mer.
Eleven centuries after the first buildings rose from the ground, this charming village now has nearly 3,500 inhabitants. Each year, many tourists climb its cobblestone streets, attracted by the stylish houses, art-galleries and centuries-old ramparts built under Francis I, fascinated by the international renown of its square and "pétanque" terrain, the Colombe d'Or and its art collection, and the no less famous Maeght Foundation. Picasso, Matisse, Miro, Modigliani, Braque, Léger, Chagall..., the village certainly has nothing to envy of cultural centres in major capitals.
"Scandinavians appreciate Saint-Paul's green hillsides and neo-Provençal villas of incomparable charm, its ancient stone bearing the patina of hundreds of years, and its soothing lifestyle, just a short drive from Nice and Antibes," says Fredrik Lilloe, CEO of Knight Frank Côte d'Azur. "Residents of Monaco fall for the atmosphere of a villa in a countrified environment, ideal for weekends and holidays far from the bustle of the Principality, and just a few kilometres from the motorway. One third of buyers are English-speaking, even though they keep a very close eye on the consequences of Brexit. The most sought-after type of property is a villa on a gated estate with security, in Les Hauts-de-Saint-Paul or Notre-Dame, an area offering breathtaking views of the Mediterranean just 300 metres from the Colombe d'Or. At the top end of the market, most requests range from 2 to 5 M €. For properties from 5 to 10 M €, visits are more rare. 5 M € will bring a house with six suites, facing the village or the sea, benefiting from grounds of 5,000-7,000 m2. Saint-Paul-de-Vence is more highly-prized and therefore more expensive than Vence, La Colle-sur-Loup or Tourrettes-sur-Loup." Fredrik Liloe is currently handling the sale of a house priced at over 6 M € to a British buyer. A Norwegian family, able to invest 10 to 15 M € in a holiday residence, seems drawn by an address in Les Hauts-de-Saint-Paul with views of the sea and enchanting sunsets.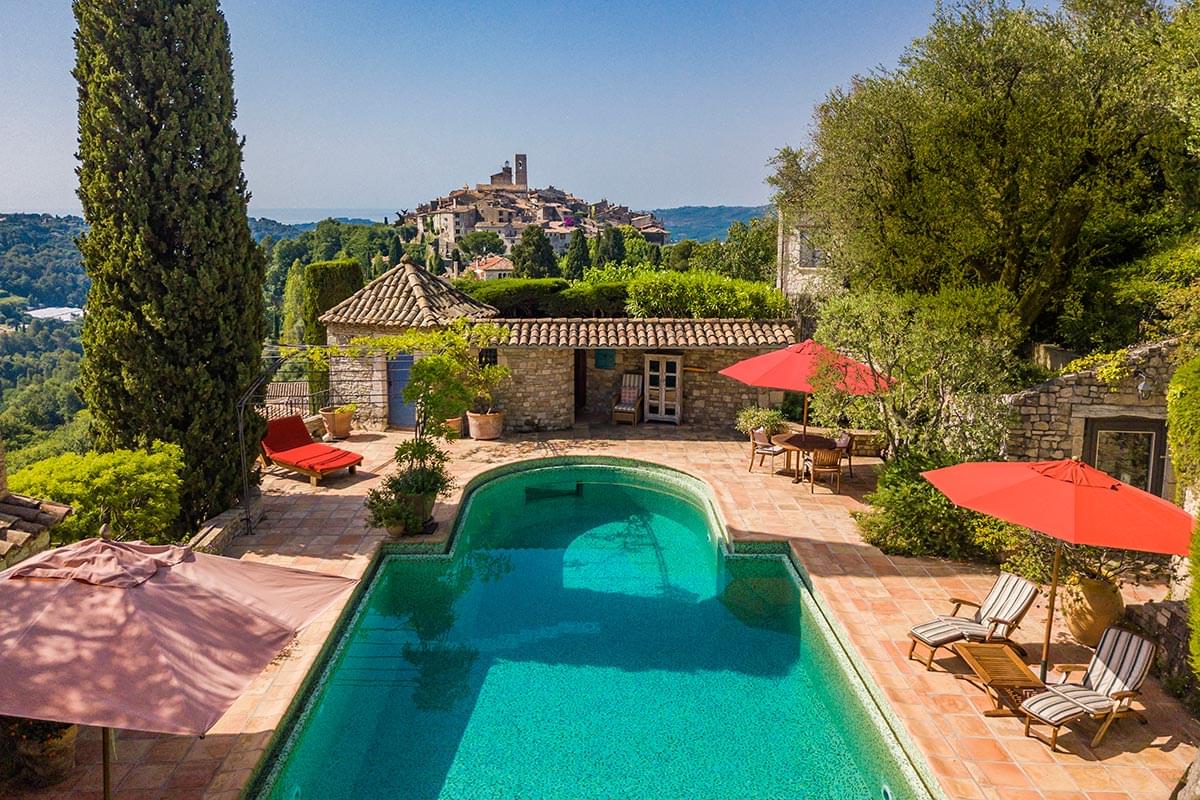 On a gated estate, this Provençal property of 575 m2 in grounds of 5,388 m2 enjoys an unimpeded view of Saint-Paul. 8.250.000 €. Knight Frank (04 97 97 32 40).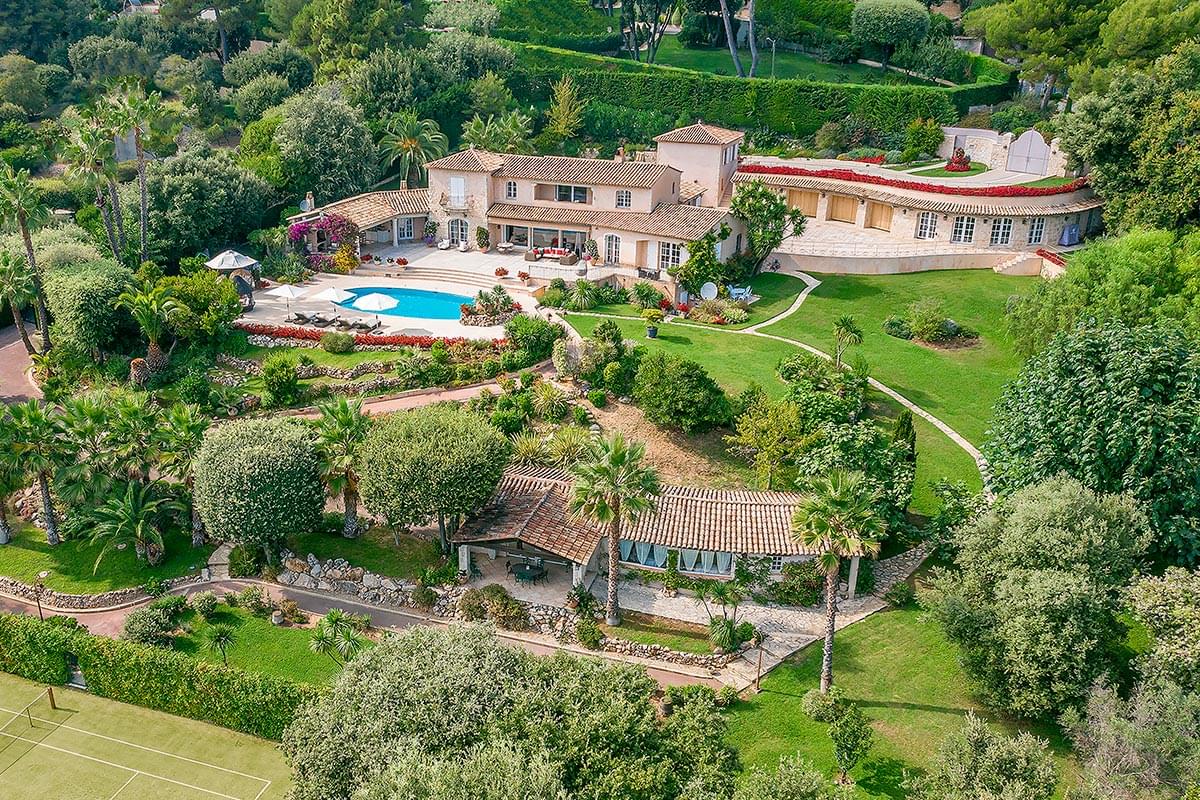 In immediate proximity to the domain of Les Hauts de Saint-Paul, this property in La Colle-sur-Loup offers living space of 669 m2. Recently renovated, it is comprised of nine bedrooms and generous living areas. 9,7 M €. Michaël Zingraf Christie's International Real Estate (04 93 32 32 32).
The clientele of Maud and Rafael Maura of Saint-Paul Properties is shared out between the actively employed and buyers of second residences, accounting for the majority in the area. Charles Trenet wrote : "Saint-Paul-de-Vence is the city of which Paris is a suburb". It is still true today. The French share this prestige address with North Europeans. They are all looking for four or five suites, a view of the Med, a limited amount of refurbishment, and the charm of exposed stone and red-tiled floors. The starting-price is 1.5 M €. Saint-Paul is often compared to Valbonne, or even Mougins, further west in the Alpes-Maritimes and only 6 km from the Croisette. It is appreciated for its closeness to all amenities. And a recovery is clearly on the cards. Since the spring of this year, visits and sales have been humming along.
"Saint-Paul-de-Vence and La Colle-sur-Loup now form a homogeneous market with high-quality real-estate, together with neighbourhoods straddling the two communes, with no disparity in prices," explains Donovan Losserand-Madoux of the John Taylor agency. "Just a few years ago, there were clients who insisted on an address in Saint-Paul-de-Vence. Today, most of them target the broader back-country area. Vence is further from the seafront, nevertheless appreciated by the locals for its shops, quality living conditions, closeness to the A8 motorway, and more affordable property prices." Among his recent sales, Donovan Losserand-Madoux mentions a luxury property in chic Provençal style on a renowned estate in Saint-Paul-de-Vence, with four suites and a beautiful view, acquired by affluent Parisians for around 2.6 M €. He also describes an apartment in Le Jardin des Arts, priced under the bar of 2 M € : living space of 150 m2, a terrace of 70 m2 and a sublime view of the sea. The lucky buyers left their large villa for this property both practical and elegant in Saint-Paul-de-Vence. A young couple working in Tokyo, wanting to invest in La Colle-sur-Loup, are drawn by its proximity to Cagnes-sur-Mer, Polygone Riviera and the coast. For 1.5 M €, they are aiming for a charming, unusual stone house, contemporary decor and a location facing the medieval village of Saint-Paul. Finally, French ex-pats living in Norway are very interested in a house in Vence, in need of modernization : five suites, in grounds of 2,500 m2, slightly over 1 million euros. 1 to 2.5 M € is still the most buoyant price bracket.