Prestige properties in Lyon
Strategically situated between sea and mountains, only two hours from Paris, Lyon is attracting more and more Parisians wanting to acquire smart apartments in the town's most privileged neighbourhoods. Update on this lively market with Fleury Trollion, Management Assistant with Sotheby's International Realty…
When talking about Lyon and high-end apartments, one inevitably focuses on neighbourhoods that have built the city's renown : "Location is the main criterion in Lyon when looking for high-end apartments," says Fleury Trollion. "Among highly-prized areas, one first finds neighbourhoods in the 2nd arrondissement, between the Ampère and Cordeliers metro stations, with sought-after addresses on the Quai de Saône, Quai Saint Antoine and Quai Tilsitt. Still in the 2nd arrondissement, Place Bellecour, Place Antonin Poncet and Place Célestins draw lots of interest on the part of buyers. Then there is the 6th arrondissement, especially addresses near Métro Foch, and two squares, Place du Maréchal Lyautey and Place Puvis de Chavannes. And finally, the entire Préfecture neighbourhood, in the 3rd arrondissement. In these areas which have seen a hefty rise in prices, we now quote 5,500 to 7,000 € per sq.m, though 8,000 to 10,000 € can be attained by some very prestigious new developments, such as the one built on Place Bellecour." A clear view, lofty interiors, the Haussmann style or refined renovation signed by an architect, are all assets which catapult apartments into the luxury category. So who are the buyers of these prestige properties ? "Demand is strong and the stock of top-notch apartments is on the decline. This market increasingly attracts Parisians, retirees or people transferred to the region, and always a wealthy local clientele. There are not many foreign buyers in this market, they tend to focus more on houses and large properties on the outskirts of the town."
Sotheby's International Realty, 21, rue Auguste Comte, Lyon 2 (04 78 03 79 56).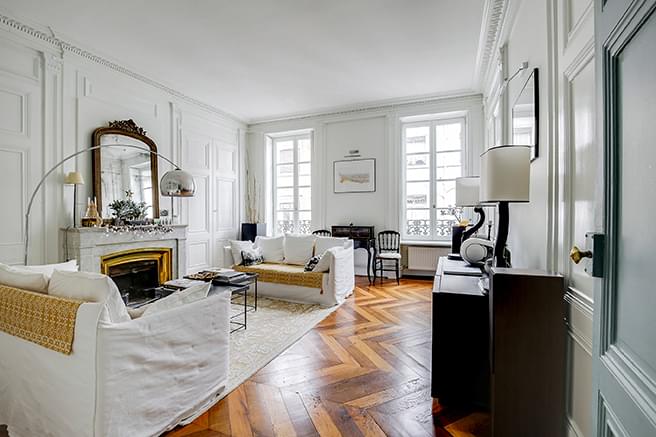 In the Ainay neighbourhood at the very heart of the Presqu'île, this superb through apartment of 174 m² has been renovated throughout by an architect. On an upper floor in a handsome old building with a lift, it offers pretty views of the hill of Fourvière and is comprised of a vast lounge with hearth facing south, a kitchen/dining-room, a study and 4 bedrooms including a master suite. A cellar and attic complete the property. 1.130.000 €.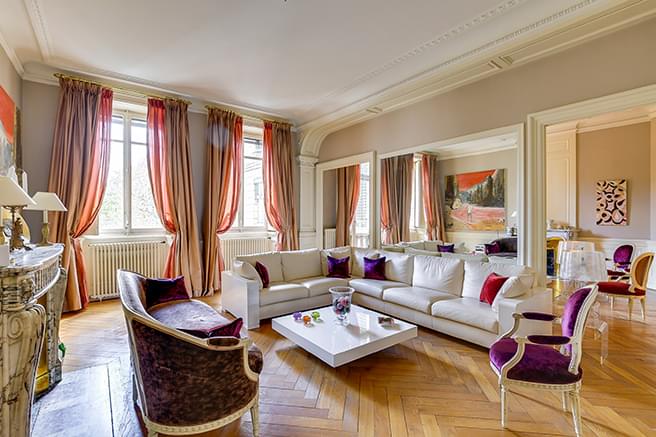 Between the Quais du Rhône and the Préfecture, this sumptuous apartment prolonged by a balcony is on an upper floor in an elegant, late 19th-C. mansion. Its living space of 313 m2 is comprised of a double reception room, a dining-room, fitted kitchen, and 4 bedrooms. A cellar of 27 m² and 2 parking places in the building's courtyard complete this outstanding property. 1.980.000 €.