Large traditional property estates
A long tradition evoking a fondness for the soil and a sound investment !
This French tradition goes back to feudal times when the lord of the manor laid down the law. It also evokes a fondness for the soil, a sound investment since the dawn of time…
In an age when everything is virtual thanks to Internet and on-line buying, some people still dream of real possessions. When stock markets collapse, real estate lives on. And these past few years have demonstrated the on-going dimension of its worth. We're not talking here about a patch of land, but a large estate : agricultural land, olive-groves, a mill, an old country house of 800 to 1,000 m2 with thick stone walls. These properties stretch as far as the eye can see, surveying an old village or a lush valley. They often have a stream or even a lake. One enters these old properties with no ostentatious luxury through a heavy wooden gate : the reception rooms are spacious, echoing with past family reunions. Shiny red floor-tiles, a fresco that needs to be touched up… Depending on the date of construction, the floors go on forever or proportions get bigger, lines tend to curve or emphasize corners. The height of the ceilings surprises those used to more recent buildings where each square centimetre is put to good use. In choosing this kind of property, one expresses a need for a return to roots, a desire to re-assemble one's life and family, a love of heritage and an underlying respect for passing time.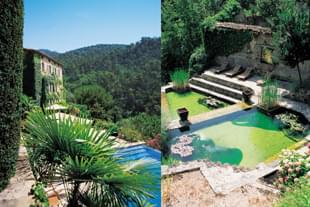 6.25 acres with living space of 650 m2 (eight bedrooms and an independant apartment) plus another 1,000 m2 on the cadastral plan… Figures that reveal the immensity of this property at Gilette while leaving its beauty unsung. The mark of the past is everywhere : in the stones in the garden, at the foot of the trees, in the rooms of the 17th-century oil-mill. The reception rooms are laid out around the mill-stone. Stairs, vaults and colonnades succeed each other in an authentic blend of ochre and burnt sienna. The exterior is a perfect synthesis of nature and a subtle sophistication conveyed by the paved drive, the infinity pool and towering pines. The centre-piece consists of three ponds and an intemporal universe between the stream that feeds them and a ruin, a bridge between two worlds. About 4,000,000 €. Capital Immobilier (04 93 59 72 72).
In the shade of the oaks, in about 15 acres of grounds, this property of 500 m2 offers four bedrooms and numerous communal rooms. The charm and omnipresence of the past characterizes this estate in the Saint-Antoine neighbourhood of Grasse. Authentic tiles, original parquet flooring, frescos from another day and age… All around, the countryside as far as the eye can see, an olive-grove, an orchard, a harmoniously integrated pool and a riding enclosure make up this bucolic scene of rare serenity. About 4,000,000 €. Emile Garcin (04 97 97 32 10).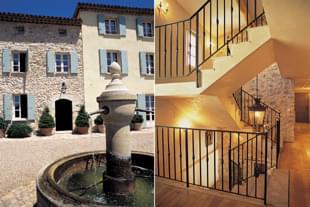 About 2.5 acres of grounds and 750 m2 of living space (eight bedrooms) for this country house in the Saint-Mathieu neighbourhood of Grasse. Built in the 18th century and fully renovated in its original style, the property has been converted into a guest-house and bears the label "Châteaux & Hôtels de France". 4,500,000 €. Burger Sotheby's International Realty Côte d'Azur (04 93 38 50 33).
Philippe Planchet of the Emile Garçin agency points out that "the Côte d'Azur is not really known for its large estates". In fact, France's second most popular tourist destination, though very well-protected against "wild-cat urbanization", no longer offers many estates for sale. The Var with its vineyards, the Lubéron and even L'Hérault are more the ticket. On the Riviera, estates thus comprise a niche sector. On the coast, and the capes in particular, they have become the subject of anecdotes. On Cap d'Antibes, they have already been bought up by the Russians, and Cap Ferrat has smaller plots of land. Maria-Anna Burger of Burger Sotheby's International Realty Côte d'Azur says that, on the west side of Cap Martin, there are a few historic properties with several acres of grounds. A comment that says a lot about their rarity : if a property like this has direct access to the sea, it could sell for 50 million €. Naturally, it would be an exception. So let's head inland from the Mediterranean : about a 30-minute drive from the centre of Cannes, Antibes, Nice or the Principality of Monaco. For Philippe Planchet, 60 % of large estates are in need of restoration. The English, Dutch, a few Americans and wealthy French industrialists are very keen to acquire these properties which they mostly use as holiday homes. Demand is greater than supply, even if clients looking for realty on the Riviera usually prefer the coastal areas. The market's very low mobility is explained by the desire to keep such assets in the family. Many owners are prepared to make considerable sacrifices in order to do so.
"As in any micro-market," continues Mr Planchet, "rarity justifies high prices". 4,000,000 € would be the base-price for an estate in good condition, 15,000,000 € a theoretical top-price for properties which rarely exceed 50 acres. Gilles Pieri of Capital Immobilier ranks Saint-Paul in pole position : for about 5 acres of land and living space of 600 m2, expect to pay between 7,000,000 and 8,000,000 €. For the same type of property in Mougins : from 6,000,000 to 7,000,000 €, 5,000,000 € in Grasse and 4,000,000 € in the countryside behind Nice. Even with same living space, "domain" status doubles the price. And don't forget that the cost of maintenance isn't cheap either ! If one opts for an agricultural estate, one can benefit from a tax reduction which offsets the cost. Finally, if the property is classified as an historic building, one must comply with certain constraints regarding renovation. There are very few estates on the market. Maria-Anna Burger mentions a château built in Valbonne between 1920 and 1930 in about 20 acres of land, a domain of 40 acres in Mougins, a former agricultural estate of about 17.5 acres in Grasse, whose flower production was once used in perfume-making.
"The investment is on a par with one's desire to treat oneself," says this real-estate specialist. Anyone interested should bear in mind that the size of the land does not automatically give the owner the right to sell off plots, nor is it proportional to the living space authorized. One can easily understand that these estates are not subject to unbridled speculation on the part of developers. Some acquire them with the intention of transforming them into guest-houses, though only in a few isolated cases. Through these vast and very splendid domains, the owner reunites, transmits and attests to the value of the land. Psychologists would undoubtedly unearth a wealth of deeper motives behind such onerous but appealing acquisitions, though we can content ourselves with simply appreciating the beauty of these enchanting estates, these sites that resist the march of time...
By Laetitia Rossi - Photos Edith Andreotta