CANNES, AN ADDRESS LONG ASSOCIATED WITH PRESTIGE
Famous for its International Film Festival, this town to the west of the Alpes-Maritimes does not content itself with its illustrious Croisette and lovely sandy beaches. A cultural hub, a congress venue, a magnet for shopping and entertainment, Cannes has many persuasive assets.
25 km from the Nice Côte d'Azur international airport, Cannes, with almost 75,000 residents, draws 3 million visitors per year. A figure allowing it to take its place alongside the world's most popular tourist destinations. France's second busiest town for trade fairs after Paris, it also attracts 320,000 cruise passengers per year. Facing the sublime Lérins Islands, against the backdrop of the Estérel hills, the coastline with its wooded reliefs and sumptuous villas is acclaimed the world over.
"This summer, a season that is traditionally quiet, brought with it a good number of buyers, with sales above 10 million euros," says Angie Delattre of Michaël Zingraf Christie's International Real Estate Cannes Croisette. "A very healthy budget allowing buyers to set their sights on villas with 5/6 bedrooms at least, modern and chic, in virtually flat grounds from 3,000 to 5,000 m2. La Californie is still highly-prized, though the wooded area of Super Cannes offers infinity pools overlooking the Mediterranean, Cap d'Antibes and the Lérins Islands." Registering a growing number of quality visits, high-end properties in Cannes appeal to French ex-pats, English and north European clients looking for holiday homes. Most of them, aged over 50, fall for the charm of the second largest town in the Alpes-Maritimes offering easy access, a lovely climate, events and activities programmed all year round.
This new residence of 700 m2 in La Californie offers sophisticated decor in grounds of 2,940 m2, just a few minutes from the centre of Cannes, the Croisette and its beaches. 25 M €. Michaël Zingraf Christie's International Real Estate Cannes Croisette (04 93 39 77 77).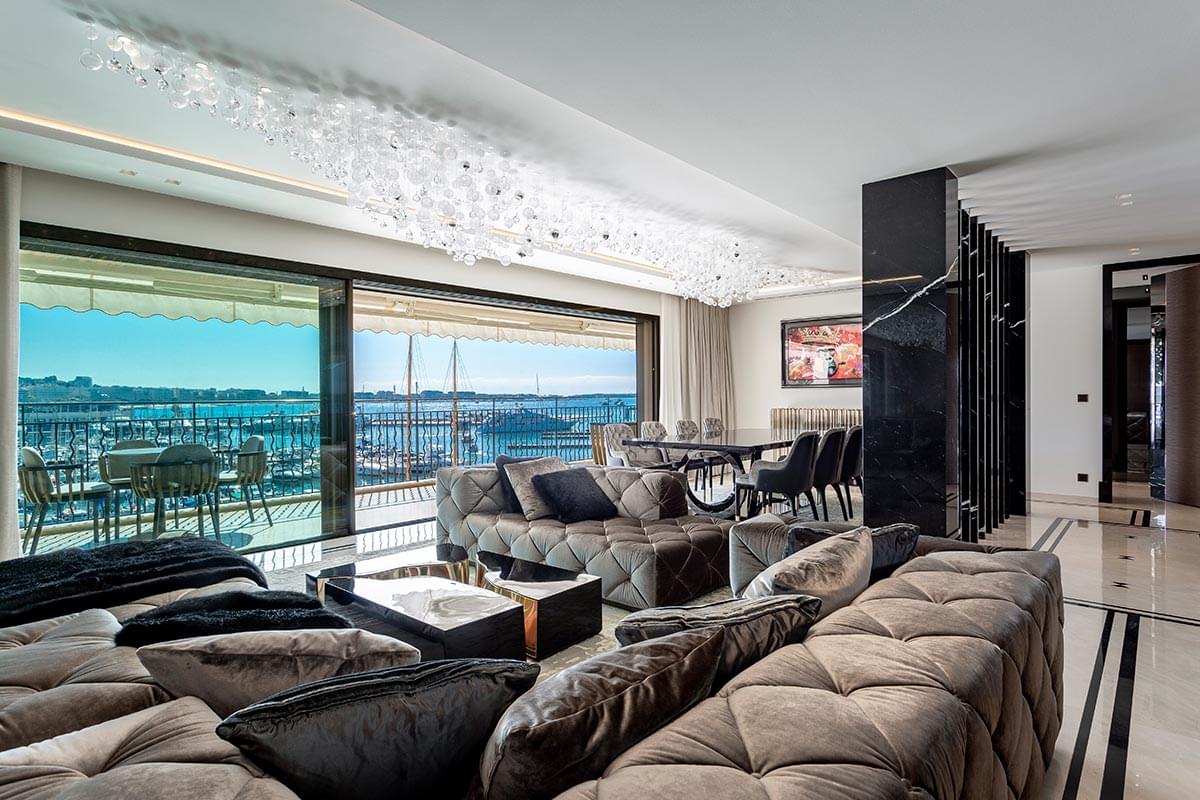 A stone's throw from the Croisette, this split-level apartment of 262 m2 (four suites), renovated throughout and extended by a generous south-facing terrace of 27 m2, overlooks the famous Quai Saint-Pierre and Palais des Festivals. 5,3 M €. Côte d'Azur Sotheby's International Realty (04 92 92 12 88).
A Provençal villa on a private estate in La Californie, extended and renovated by the architecture and decoration agency Collection Privée - , offering living space of 360 m2 and a basement of 200 m2, five suites facing the Bay of Cannes -, is currently on offer at 9.6 M €. 3,490,000 € are then required for a restored property of 350 m2 in grounds of 1,500 m2 in Super Cannes, with views of the harbour of Golfe-Juan, Antibes and the Alps. Finally, one would have to part with 25 M € for a residence of 700 m2, decorated throughout by a renowned Portuguese architect, in grounds of 3,000 m2 in La Californie, enjoying a stunning panoramic view of the azure sea. A special mention for its sumptuous, bespoke, moulded glass stair rail and state-of-the-art movie lounge. The sale of the Château Soligny in early 2019 by Michaël Zingraf Christie's International Real Estate Cannes Croisette contributed to the movie town's current reputation on the international scene. Interest rates at record lows also play their part in this commercial buoyancy.
"Over the past year, sales volumes have risen without any seasonal breaks," confirms Frédéric Ernandes of the John Taylor agency. While turnkey properties win all the votes, houses to renovate have their fans, especially among property dealers, of whom there are many in this area. A third of the sales are handled by real-estate professionals. French and European clients now share the market equally for properties ranging from 1 to 10 M €. Otherwise, the majority of transactions range from 1.5-2 M € - the sum required for a spacious renovated apartment of 100-120 m2 in a prestigious residence in La Californie, such as Le Sémiramis or Champ­fleuri, with a pool, conciergerie and sea view - to 7 M €. With this budget one can acquire living space of 500 m2 with contemporary architecture, indoor and outdoor pools, a spa, in grounds of 2,500 m2 offering magnificent views of the sea and Cap d'Antibes. 90 % of buyers are looking for second residences, spending at least 3 months a year in their holiday home in Cannes. They all appreciate the infrastructures worthy of capital cities, and the quietness of a town on a human scale.
"The market seems to be settling into a long-term recovery phase, seeing a revival that began three years ago," observes Frédéric Barth of Côte d'Azur Sotheby's International Realty. Buyers, particularly knowledgeable about the reality of the real-estate market in Cannes, are displaying more rational behaviour and refuse to pay over the odds for properties. A more recent phenomenon, sellers are also adopting a more realistic approach. As a result, completions are seen on a more regular basis, especially for apartments whose sales take less time to finalize. The 1-3 M € bracket is particularly active, in the case of both houses and apartments. Beyond that level, completions are longer and more arduous, due in particular to the banking environment, technical and highly regulated. The Croisette posts prices from 20,000 to 80,000 € per sq.m. Over the past three years, Soligny has found takers, together with Bagatelle and Le Château de La Croix-des-Gardes. Some fine residences are due to rise from the ground in the coming months. Transactions over and above 20 M €, still rare a decade ago, are no longer the prerogative of Saint-Tropez or the Côte d'Azur's prestigious capes.