Agences Legasse Viager
Founded in 1963 by Bruno Legasse in the 7th arrondissement, this agency specializing in "viagers" is one of the most influential in Paris and the surrounding region. Now run by his son, Nicolas Legasse, and doubled by a counterpart on the Right Bank, it has won recognition on a niche market, confidential and moral, now undergoing significant expansion.
Economic development, the explosion in property prices and the ageing of the French population are bringing the "viager", or life annuity sales, back into the limelight, a type of transaction in which sellers and buyers benefit from several advantages. Familiar with this formula for over 30 years, Nicolas Legasse, director of the Legasse Viager agency, explains : "The French population is ageing. Currently, 1 in 5 French people are over 60 years old. In 1989, an 80-year-old woman had an average life expectancy of 7 years, today it is 12.4 years. Furthermore, the cost of living is rising and we are seeing an explosion in property prices with, at the same time, a significant drop in pensions, thus reducing the purchasing power of the elderly. Selling a property under the "viager" scheme brings retirees two essential advantages : the first is being able to keep their home, the second is enjoying an indexed annuity that can range from 400 € per month for a small studio to 10,000 € per month for a large apartment. As for the buyer, the "viager" is an investment in bricks and mortar which does not necessarily require a loan. You buy more cheaply and become a homeowner immediately, though your right of use and occupancy may be deferred". A real niche market, the "viager" option accounts for 2.5 % of total sales. A figure which is, however, tending to rise. "In our agencies," says Nicolas Legasse, "we handle on average 120 sales per year. The "viager" only functions in areas where properties are rising in value, such as Paris, the Côte d'Azur and towns with very strong appeal (Deauville, for example). It is a market in which proximity, information and follow-up are essential. We are, in fact, looking to open a third agency next year near Rue de Sèvre in the 6th arrondissement. There is an obvious inhibiting factor in this practice as it refers to someone's death, though the "viager" can well be seen as a real bridge between generations".
Legasse Viager, 47 avenue Bosquet, Paris 7 (01 45 55 86 18) et 96 avenue Mozart, Paris 16 (01 40 71 14 20). www.viager.fr
In the 16th arrondissement, on the 3rd floor of a fine town mansion with lift, this 4-bedroomed apartment of 144 m2, occupied by a woman aged 79, sold under the "viager" scheme for a 550,000 € down payment + 5,800 € in monthly payments (unoccupied market value : 2,200,000 €).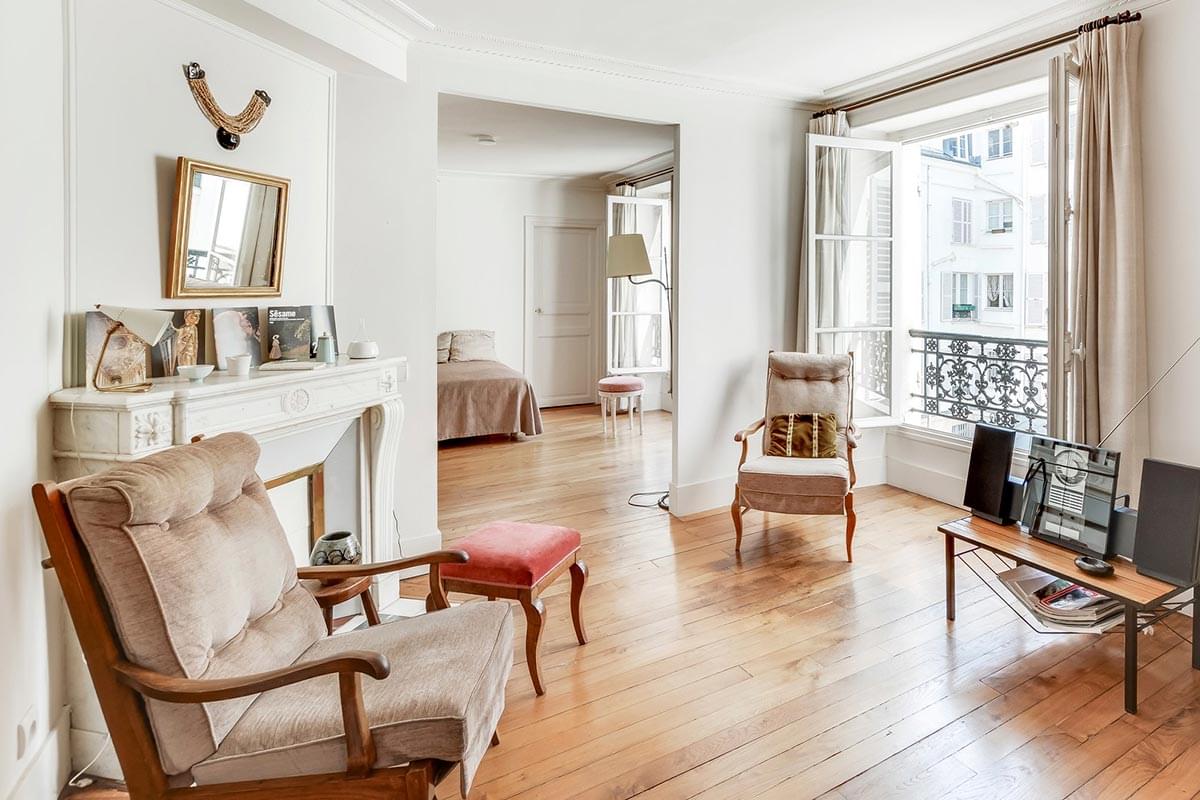 On Rue Bonaparte, 100 metres from Place Saint Sulpice in the 6th arrondissement, this through apartment of 80 m2 is on the 2nd floor, with a lift. It is occupied by an 87 year-old woman. The "bouquet", or down payment, is proposed at 345,000 € + monthly payments of 5,645 € (unoccupied market value : 1,200,000 €).