Valbonne, a haven of tranquillity with international appeal
A picturesque old village lively year-round, and a world-renowned technopolis providing a dynamic pool of jobs… Nothing more is required to guarantee steady demand for the property market in Valbonne. Demand that seems to have intensified over the past few weeks…
In the midst of a 12-acre park near the historic centre of Valbonne, this "bastide" offers 9 main rooms renovated in contemporary style, accompanied by a guest cottage.More than 7 M €. Agence de l'Olivier (04 93 12 10 33).
In the midst of a 12-acre park near the historic centre of Valbonne, this "bastide" offers 9 main rooms renovated in contemporary style, accompanied by a guest cottage.More than 7 M €. Agence de l'Olivier (04 93 12 10 33).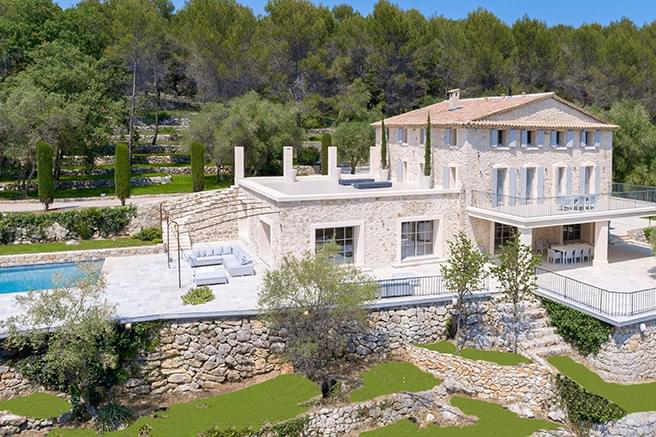 Less than 5 minutes from the International School of Mougins and a 3-minute walk to the Country Club of Cannes- Mougins, this contemporary property of 275 m2 (five suites) is on a private gated estate. It offers luxury appointments : noble materials, a wall of water, granite pool... 3,8 M €. Groupe Mercure (06 15 52 14 61).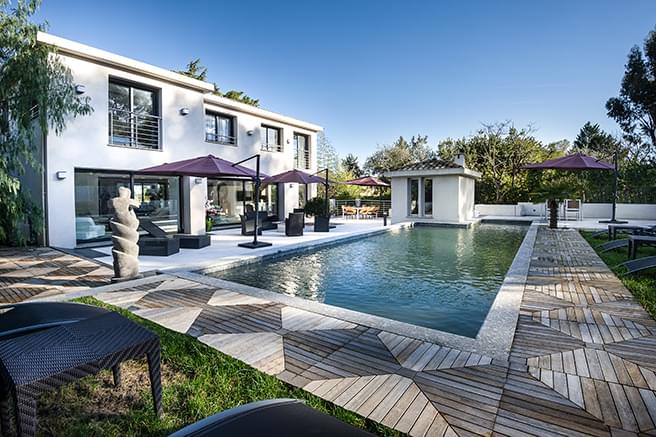 Within walking distance of the medieval village of Valbonne, this magnificent "mas" of over 400 m2 offers five suites, one of 70 m2, in a park of 5,000 m2. 3,5 M €. Blue Square (04 22 32 60 46).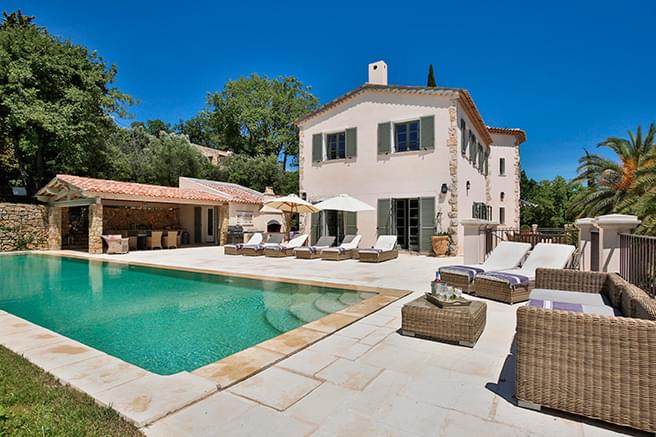 Almost 14,000 people live in Valbonne year-round, drawn by the peacefulness of the forest, yet not far from the main coastal towns of Nice, Antibes and Cannes. Built like a chequerboard around the Place des Arcades, listed as an Historic Landmark since 1992, the village offers lots of charm with its tall, narrow houses. The development of the university, science and technology park of Sophia-Antipolis in 1969 gave the area a totally new identity, that of an international pool of employment. Focusing on ITC, multimedia, energy and life sciences, it now plays host to 1,400 companies, 31,000 direct employees, and 5,000 students and researchers.
"Valbonne is a little Europe. The French appreciate the address, rubbing shoulders with Scandinavians, English and Germans, drawn by professional opportunities offered by Sophia Antipolis, but also the natural setting and undeniable quality of life, which also make the area appealing for holiday homes," says Meta Looij of the Groupe Mercure, still surprised by the colossal development seen over the past four decades. No coaches spilling over with tourists in summer, rather a carefully preserved atmosphere, shops and amenities of quality. Small houses on estates - 100 m2 with gardens of 300 m2 - start from 500,000-600,000 €, while the majority of villas range from 1 to 3 million euros. A property of 200-250 m2 in good condition, in grounds of 2,500 m2 with a pool, opening out to the countryside, will fetch around 1.5 M €. A brand new house of 300 m2 on the outskirts of Valbonne, in classic 18th-C. style with high ceilings, elegant wood panelling and tall windows leading out to grounds of 2,500 m2 with a pool and generous pool-house, will cost 3 M €. The market below 1 million euros is very active. "From 1 to 2 M €, foreigners then comprise the majority of buyers."
"The 800,000-1.5 M € bracket is particularly lively," says Gérald Gomis of the Blue Square agency. "Sixty per cent of our buyers are English-speaking, reassured by the proximity of the international Nice Côte d'Azur airport, the CIV or Mougins School where classes are held in English, but also by the presence of shops and service-suppliers, doctors and dentists, of British origin. The seven golf-courses in the area are of great interest to Scandinavians. Just like the low land tax and all the advantages for families. Living in Valbonne is both pleasant and practical." All assets that justify a 20-30 % price difference as compared to the area of Plascassier near Grasse or Roquefort-les-Pins. 10 % of Blue Square's sales here involve luxury properties, ie. over 2 M €. A Scandinavian client has just acquired a holiday residence of 450 m2, perfectly renovated and benefiting from a movie lounge, sauna, jacuzzi, and a lift to the upper floor, on approx. 3.25 acres of land, priced at 3.8 M €. Views of the sea have their fans, but are rare in Valbonne.
"This summer, we saw a rise in terms of offerings, but also in completions of sales. Less audacious in their bargaining than in the past, buyers now seem more determined," says Chantal Agier of the Agence de l'Oli­vier, based in Valbonne for 35 years. This steady rhythm contrasts sharply with the sluggishness witnessed during the pre-election period, except for properties under 800,000 €, a market fuelled by French people working locally. Some foreigners fear that France will leave Europe. Others simply wait for a clearer view. In August, Swiss and German buyers showed particular interest in the address, compensating for hesitation on the part of the English since Brexit. Like Scandinavian buyers, they appreciate the old character of the village, the nearby golf-courses and pleasant lifestyle. Over and above 2 M €, foreign buyers are clearly omnipresent, a wealthy clientele with a taste for luxury and privacy.
By Laetitia Rossi