A wave of optimism in the Alpilles
This mountain range comprised of limestone rock stretches from Tarascon to Orgon, playing host to 16 communes languishing between the valleys of the Rhône and Durance, about 60 kilometres from Marseille. 43,000 residents live in the Regional Nature Park all year round.
Not far from the town centre, this magnificent renovated "mas" of 380 m2 in Saint-Rémy offers spacious interiors including six suites. 1.378.000 €. Janssens Immobilier Knight Frank (04 90 21 57 01).
Not far from the town centre, this magnificent renovated "mas" of 380 m2 in Saint-Rémy offers spacious interiors including six suites. 1.378.000 €. Janssens Immobilier Knight Frank (04 90 21 57 01).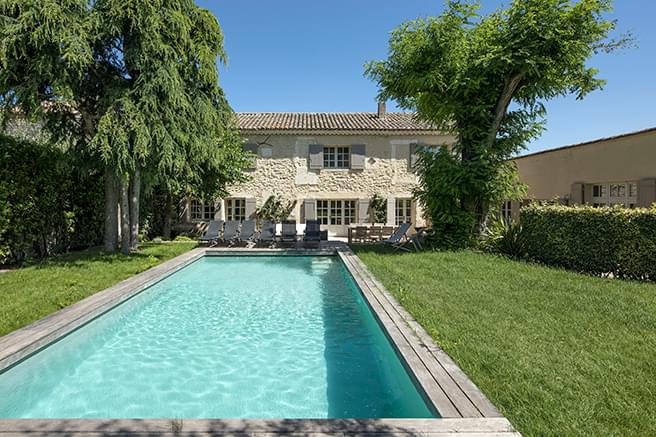 A stone's throw from the centre of Saint-Rémy and its shops, this contemporary "mas" is comprised of beautiful reception rooms and four bedrooms. 1.290.000 €. L'Agence de Saint-Rémy (04 90 20 80 70).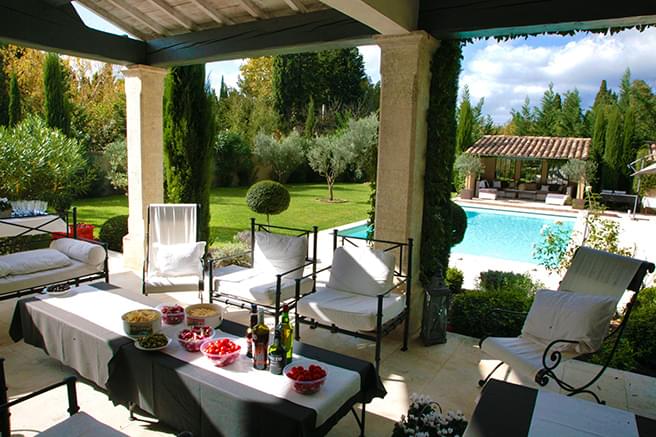 In a residential neighbourhood in Saint-Rémy-de-Provence within walking distance of the centre, this recent architect-designed house is set in grounds of 2,000 m2 with Aleppo pines and 25 olive-trees. It is comprised of generous reception rooms, a study on the mezzanine, a master suite, two bedrooms with showers, and an independent guest studio of 25 m2. 1.495.000 €. Happy Immobilier (04 90 92 03 93).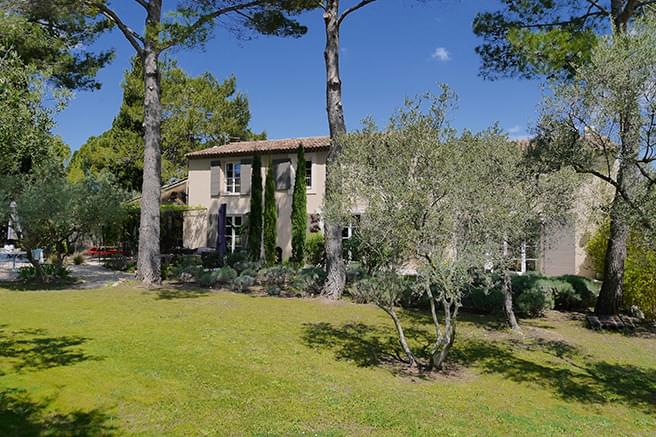 Access to the Alpilles is made easy by the train station in Avignon, 20 km north, together with the Marseille-Provence Airport and the excellent road network. Far from the bustle of large towns in the Bouches-du-Rhône, the Alpilles offer a natural garden of Eden dotted with villages of incomparable charm, ranging from the Roman site of "Les Antiques" near Saint-Rémy to the medieval site of Les Baux, the Romanesque chapel in Eygalières, and the Alphonse Daudet Museum in the village of Fontvieille. Whether interested in history, culture, relaxation or nature, tourists can look forward to memorable experiences.
"Looking back to last year, the Alpilles still appeal to Germans, the English, Canadians and Americans. The French too, accounting for 60 % of the buyers," says Nicola Christinger of Janssens Immobilier Knight Frank. Recently, Amercian visitors on holiday in the region rented a "mas" of 400 m2 with three buildings in wooded grounds of 6,000 m2. While its Belgian owner initially had no plans to sell, he ended up by agreeing to part with it, fully fitted and furnished, in exchange for 2,350,000 €. German clients then treated themselves to a village "mas" of 250 m2 with a small, low maintenance garden, priced at 1.2 million euros. A 3 bedroomed "mas" in large grounds with a pool at the edge of the forest in Eygalières, on offer at 976,000 €, finally found a taker at 950,000 €, a French client in search of peacefulness and privacy. In the valley of Les Baux, this commune with almost 1,800 residents is a real success. Like one of its restaurants, "Chez Paulette". The property market between 2.5 and 3.5 million euros is also very active. All segments combined, the number of enquiries in the first six months of 2017 attained the total figure for all of 2016, despite Brexit, the drop in the pound sterling, and the French elections. Previously, the Alpilles posted prices sharply higher than those in surrounding areas. Following various crises, prices have flattened out and become more homogeneous throughout the region. Today, the Massif des Alpilles benefits fully from all the enthusiasm.
"Well-known both in France and internationally, Saint-Rémy-de-Provence, Maussane-les-Alpilles and Eygalières are still the most widely sought-after addresses, those with the most tourists too," comments Aurélie Freychet of the Agence de Saint-Rémy. Apparently, Hugh Grant has acquired a property in Eygalières. The "mas" still tops the popularity ratings, with buyers preferring it to be freshly renovated, though they are still fond of old stone and the warmth of Provençal decor. A style that contrasts sharply with the fashion for hyper-contemporary homes in the capitals from which they come. Over and above 1 million euros, they can hope for four bedrooms and a lovely quiet environment. Village houses with gardens also have their fans. And everyone likes to be within walking distance of amenities.
"Just a 15-minute drive takes these holiday residents to and from the TGV station in Avignon, which is 2 hrs 40 from Paris, and 45 minutes to and from the Marseille-Provence Airport," say Sylvie and Yannick Bouteloup of the Happy Immobilier agency. "Between Aix, Arles and Avignon, and not far from the Luberon, the Alpilles draw clients from Paris, Lille, Brittany and northern Europe." Some are looking for a holiday base, others an investment or a permanent home. A house of 140 m2 benefiting from a garden and pool costs from 400,000 to 600,000 €, depending on the village. Many opt for Saint-Rémy, a busy town with 10,000 residents. Ready to spend from 150,000 to 500,000 €, investors are drawn by the lure of seasonal rentals and an economic base focusing heavily on the service sector. The top end of the market brings together fans of both "mas" and contemporary houses - living space of 400 m2 in perfect condition, in grounds of 2,000-3,000 m2, at prices ranging from 1.5 to 2 million euros. Others prefer "mas" in need of renovation, from 800,000 to 1.2 million euros, now rare commodities due to various waves of refurbishment. Optimism is currently all the rage, largely fuelled by demand much higher than that recorded over the past three years.
By Laetitia Rossi